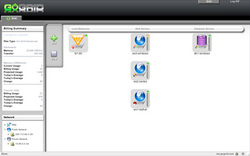 no other providers had looked at delivering ease of use AND control in the cloud at the same time
San Francisco, CA (Vocus) July 31, 2008
GoGrid, the Cloud Computing service provider has recently been selected by the Google Web Toolkit (GWT) team as a prime example of the Google AJAX development framework in action. GoGrid is being showcased on the GWT Featured Project Page. GoGrid's rich, interactive graphical user interface (GUI) is built using the Google Web Toolkit (GWT), an open-source Java development framework which enables GoGrid to provide a quick, responsive and interactive user experience. GoGrid is nominated for Best Virtualization Solution for the LinuxWorld 2008's Product Excellence Awards.
"When we started the GoGrid project, we wanted to push the boundaries of both front end and backend technologies," says Justin Kitagawa, lead front-end developer for GoGrid. "We were heavily influenced by Google Maps, the new Yahoo! Mail client, and several other state of the art AJAX applications. We wanted to have a thick client feel in the browser but with the performance of a thin client. " Kitagawa continues. Thick clients tend to require a much larger download and overhead, yet provide a richer experience, while conversely thin clients are much faster but less engaging visually.
The Google Web Toolkit (GWT) allowed GoGrid developers to code, debug and test strong software development best practices and produce a fast, rich, friendly User Interface. GoGrid launched the Cloud Infrastructure product first with a Graphical User Interface and later added an API (Application Programming Interface). "We felt that it was important to reduce the barrier to entry first, and extend the programmatic functionality to developers and system administrators with the introduction of the API later," explained GoGrid's Technology Evangelist, Michael Sheehan, continuing, "the use of GWT allowed our developers to be able to do much more with fewer errors, delivering a more robust and graphically pleasing experience to the end-user."
Many cloud computing providers have chosen to make their offerings visually complex or offer no Graphical Interface whatsoever. GoGrid released its Cloud Computing Infrastructure offering in March 2008, solely with the Graphic Interface because "no other providers had looked at delivering ease of use AND control in the cloud at the same time," explained Kitagawa. An example of the flexibility and power of GWT as demonstrated within the GoGrid interface can be seen here: http://www.gogrid.com/how-it-works/gwt.php.
The Google Web Toolkit (GWT) is designed to enable developers to code high-performance AJAX applications by writing the front-end in the Java programming language. GWT compiles the source code into highly optimized JavaScript. Part of the reason that GoGrid chose GWT as the development platform is because GWT produces AJAX apps that:

Load faster than hand-written JavaScript apps
Use smaller, more compact, cacheable code
Automatically support IE, Firefox, Mozilla, Safari, and Opera
GoGrid's easy-to-use graphical interface and now the GoGrid API deliver functionality and strong programmatic control, satisfying the technology requirements of novices to tech-savvy system administrators and developers alike. Users looking for a feature-rich Cloud Computing environment with a fast, flexible and elegant Graphical User Interface (a feature that is missing from Amazon's EC2 offering) now have a GWT-featured, Cloud Computing leader, GoGrid.
About GoGrid
GoGrid is a new Cloud Computing hosted, internet service that delivers true "Control in the Cloud." GoGrid enables system administrators, developers and IT professionals to create, deploy, and control load balance cloud servers and complex hosted virtual server networks with full root access and administrative server control in minutes via a unique web control panel or API. GoGrid delivers portal controlled servers for Windows, multiple Linux operating systems (Red Hat Enterprise and CentOS) and supports application environments like Ruby on Rails. Free f5 hardware load balancing and other features are intended to give users the control of a familiar server environment with the flexibility and scalability of the cloud. GoGrid is nominated for Best Virtualization Solution for the LinuxWorld 2008's Product Excellence Awards.
About ServePath
ServePath is a leading managed server provider, delivering custom solutions and managed services to businesses that need powerful Internet hosting platforms. Thousands of companies worldwide look to ServePath for its reliability, customization, and speed. ServePath has a Keynote-rated A+ network and guarantees uptime, backed by a 100% uptime, 10,000% guaranteed™ Service Level Agreement. The employee-owned company has been in business for six years and operates its own San Francisco data center. ServePath also provides colocation services through its ColoServe division.
###