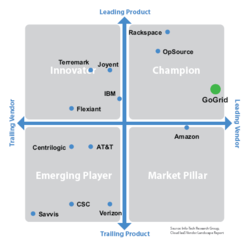 In this report GoGrid maintained the highest Overall Value Score, which indexes each vendor's product offering and business strength relative to their price point
San Francisco, CA (PRWEB) September 07, 2011
GoGrid, a leading cloud infrastructure company, announced today that its cloud infrastructure services have received the highest ranking value score in Info-Tech Research Group's recent report titled, "Vendor Landscape™: Cloud Infrastructure as a Service (IaaS)". The report, created for businesses and enterprises considering cloud IaaS vendors and solutions, recognizes GoGrid as the vendor with the highest overall value and highlighted the company's excellent support, solutions, and industry-leading Service Level Agreements (SLAs).
"Info-Tech Research Group's Cloud IaaS Champions receive the highest evaluation scores overall and offer excellent value. They have a strong market presence and are usually trend setters for the industry," said Derek Silva, research analyst, Info-Tech Research Group. "In this report GoGrid maintained the highest Overall Value Score, which indexes each vendor's product offering and business strength relative to their price point. GoGrid is an excellent option for companies that are looking for the best value of features, usability and stability in a cloud IaaS solution."
In addition to rewarding GoGrid with the highest Overall Value Index Score, the report singles out GoGrid for flexibility, ease of use and having an industry-leading SLA. GoGrid offers dedicated support backed by a guarantee of reimbursing 10,000 percent for downtime. The company's open architecture which includes public cloud, hybrid hosting and hosted private clouds allows customers to easily build, deploy and manage applications and infrastructure, and delivers critical features such as full administrative control as well as providing seamless end-to-end hosted solutions with partners in the GoGrid Exchange.
"Info-Tech Research Group truly understands the importance of having a well-rounded product offering but also providing value beyond simply the product. Customers are searching for powerful yet flexible solutions with exceptional support, service and pricing models that allow them to expand," said John Keagy, founder and executive chairman, GoGrid. "Being named as a Champion with the highest value score in this report is validation of our efforts to make complex cloud infrastructure as easy and accessible for our customers as possible. Our cloud infrastructure platform enables businesses to build what they want quickly, efficiently and with state-of-the-art cloud technology. "
The Info-Tech Research Group Vendor Landscape reports recognize outstanding vendors in the technology marketplace. Assessing vendors by the strength of their offering and their strategy for the enterprise, Info-Tech Research Group Vendor Landscapes pay tribute to the contribution of exceptional vendors in a particular category. For more information or to view a copy of the Info-Tech Research Group Cloud IaaS Vendor Landscape report, visit http://j.mp/pmXKlo .
About Info-Tech Research Group
With a paid membership of over 8,000 organizations worldwide, Info-Tech Research Group (http://www.infotech.com) is the global leader in providing tactical, practical Information Technology research and analysis. Info-Tech Research Group has a thirteen-year history of delivering quality research and is North America's fastest growing full-service IT analyst firm.
About GoGrid
GoGrid is the #1 pure-play Infrastructure-as-a-Service (IaaS) provider specializing in Public Cloud and Private Cloud Infrastructure solutions. Currently powering thousands of customers globally, GoGrid makes complex infrastructure easy by enabling businesses to revolutionize their IT environments with the Cloud. In just minutes, GoGrid customers can deploy and begin managing existing or new applications and workloads on our proven, secure and reliable hosted public cloud platform. With GoGrid's Public Cloud and Hosted Private Cloud offerings, sysadmins, developers, and IT professionals create, deploy, and control cloud environments and complex virtual and physical server networks with full administrative control; with GoGrid's Hosted Private Cloud customers utilize a private, hosted and managed, single-tenant environment with zero capital expenditure. To further leverage the GoGrid cloud, the Partner Exchange provides users with an evolving ecosystem of cloud solutions from GoGrid's partner community. GoGrid is proud to have been recognized as a "Visionary" two years in a row by Gartner and as a "Champion" by Info-Tech Research Group in 2011. For more information, please visit: http://www.GoGrid.com.
###