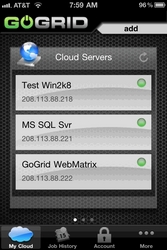 Cloud Computing has revolutionized Information Technology much the same way that Apple transformed the mobile space
San Francisco, CA (Vocus) October 20, 2010
GoGrid, a leading Cloud Infrastructure and Hybrid Hosting Provider, today announced the availability of a comprehensive management solution for managing GoGrid infrastructure services from an iPhone® or network-connected iPod Touch® device. The application represents GoGrid's commitment to "complex infrastructure made easy™" by allowing GoGrid customers to have complete control of their cloud infrastructure on-the-go seamlessly and intuitively.
"Cloud Computing has revolutionized Information Technology much the same way that Apple transformed the mobile space," said John Keagy, CEO and Co-Founder of GoGrid. "GoGrid's market leading innovations in the cloud are now fully encapsulated in our new GoGrid iPhone application, allowing customers to have full control over their infrastructure wherever they are."
The GoGrid iPhone application is available for free from the iTunes App Store at http://itunes.apple.com/us/app/gogrid/id396543372. An active GoGrid account configured with an API Key and Shared Secret are required to use this application.
"The new GoGrid iPhone app is like carrying the GoGrid portal in my pocket," said GoGrid customer Erik Howard, Founder of ServerHive, Inc., which enables companies to quickly assemble, manage, and monitor their cloud infrastructure. "Great UI. Information is clear and easy to find."
The GoGrid iPhone application leverages GoGrid's open source API for full management of the essential GoGrid functionality and mirrors the capabilities currently available within GoGrid's award-winning web portal. Management capabilities include:

View/Add/Delete/Restart GoGrid Cloud Servers
View/Add/Edit/Delete F5 Load Balancers
View the status of objects and IP addresses
View server username and passwords
View and filter GoGrid Job History
View current billing information
Multiple data center support
Multiple account support
Access additional information about GoGrid
"The new iPhone app from GoGrid is more than just another app. You can control and monitor your cloud from an intuitive interface," said GoGrid customer Dudu Shmaya, Director of R&D at artizone, an online specialty food shopping community. "I was amazed when I saw that the first version enables adding servers to your cloud. For us, the message behind this achievement is that the guys at GoGrid understand our challenges and deliver!"
The GoGrid iPhone Application provides the true power of cloud computing in the hands of GoGrid users by allowing them the ability to scale and control their GoGrid infrastructure from the palm of their hands. The application represents GoGrid's dedication to innovation, ease of use, and robust infrastructure management all within an attractive user experience.
For more information about the GoGrid iPhone Application, please visit http://www.gogrid.com/iphone.
About GoGrid
Thousands of leading IT experts choose and rely on GoGrid's Cloud Infrastructure services. GoGrid enables sysadmins, developers, and IT professionals to create, deploy, and control cloud environments and complex virtual and physical server networks with full administrative control. GoGrid's industry standard specifications and robust service offerings are powering thousands of businesses globally to achieve previously unrealized efficiencies. Deploying a GoGrid infrastructure solution using a Standard or Partner Server Image, free hardware F5 load balancing, cloud storage, private VLANs, and much more takes minutes via a web interface, API, or iPhone application. GoGrid provides users the control and advanced capabilities of a data center environment with the flexibility and immediate scalability of the cloud. http://www.GoGrid.com.
# # #