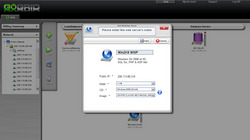 The ability to run both PHP and ASP.NET applications simultaneously on a single GoGrid Cloud Server means far more flexibility for developers
San Francisco, CA (Vocus) October 27, 2008
Cloud Server Hosting provider, GoGrid, today announced the immediate availability of Windows Server 2008 with PHP 5 in the Cloud. These new GoGrid Cloud Server configurations allow developers to run both PHP and ASP.NET code concurrently and easily. Windows Server 2008 with IIS 7 is the only platform that supports mixed application environments and running these within the GoGrid Windows Server 2008 Cloud allows for the consolidation of Web Applications on a single platform.
The following 32-bit Windows Server 2008 Cloud Servers are currently available for instant deployment using either the GoGrid Web Portal or GoGrid API:

Windows Server 2008 – IIS 7.0, Microsoft SQL Server 2005 Express, PHP5 (WISP stack)
Windows Server 2008 – IIS 7.0, ASP.NET, Microsoft SQL Server 2005 Express, PHP5 (WISP+.NET stack)
Windows Server 2008 – IIS 7.0, mySQL 5, PHP5 (WIMP stack)
GoGrid works with senior engineers within Microsoft to employ best practices for not only base-lining the "WISP" images but also IIS optimization and Security within those images for exclusive use within the GoGrid Cloud.
Default PHP installations run extremely well on Windows Server 2008 without any need for additional fine-tuning and Windows is a solid infrastructure solution for PHP development and deployment. The combination of PHP, ASP.NET and the .NET framework is a robust offering for any type of developer utilizing Microsoft and Open Source technologies.
With this release, GoGrid is firmly positioned as the global leader of Windows Server 2008 and 2003 in the Cloud. Over 2/3 of GoGrid's Clouds currently run Microsoft technologies. GoGrid Windows Cloud Servers saw enthusiastic adoption since the initial launch of GoGrid in March with Windows Server 2003. In mid-August 2008, GoGrid was first to market with Windows Server 2008 in the Cloud. GoGrid parent company, ServePath, is a Microsoft Gold Certified Partner and SAS70 Type II certified which includes the GoGrid products as well.
"The ability to run both PHP and ASP.NET applications simultaneously on a single GoGrid Cloud Server means far more flexibility for developers," says GoGrid CEO, John Keagy, adding "These new GoGrid Windows Server 2008 Clouds also consolidate disparate development environments which equates to instant costs savings."
Because Windows users and developers frequently leverage the rich Windows user interface, GoGrid's web-based portal provides the familiar and easy-to-use environment that Windows users are accustomed to. The GoGrid Graphical User Interface (GUI) and iconography allows for "point and click" deployment of complex, instant and flexible network infrastructures, which includes free load balancing, multiple web and database servers, and, coming soon: Cloud Storage. Of particular interest to Microsoft partners is GoGrid's public Application Programming Interface (API) which developers and partners utilize to programmatically control their GoGrid infrastructure and that of their clients.
GoGrid is exhibiting at the Microsoft Professional Developers Conference 2008 (PDC) at Booth #914. The PDC is Microsoft's premier gathering of leading-edge developers and architects and is the event to learn about the future of the Microsoft platform, exchange ideas with fellow professionals and hear about upcoming Microsoft Server related products. Developers who utilize Microsoft technologies are encouraged to visit the GoGrid booth where they can receive a free trial of GoGrid Cloud Servers.
About GoGrid (http://www.gogrid.com)
GoGrid is the leading Cloud Computing, hosted, Internet service that delivers true "Control in the Cloud™." GoGrid enables system administrators, developers, IT professionals and SaaS (Software as a Service) vendors to create, deploy, and control load balanced cloud servers and complex hosted virtual server networks with full root access and administrative server control. Bringing up servers and server networks takes minutes via a unique web control panel or GoGrid's award winning API. GoGrid delivers portal controlled servers for Windows Server 2003, Windows Server 2008, SQL Server, ASP.NET, multiple Linux operating systems (Red Hat Enterprise and CentOS) and supports application environments like Ruby on Rails. Free f5 hardware load balancing and other features are included to give users the control of a familiar server environment with the flexibility and immediate scalability of the cloud.
About ServePath (http://www.servepath.com)
ServePath, a Microsoft Gold Certified Partner, is the leading managed and dedicated hosted server provider, delivering custom solutions and managed services to businesses that need powerful Internet hosting platforms for their production environments. Thousands of companies worldwide look to ServePath for its reliability, customization, and speed. ServePath has a Keynote-rated A+ network and guarantees uptime with a 10,000% guaranteed™ Service Level Agreement. The employee-owned company has been in business for six years and operates its own San Francisco data center.
# # #