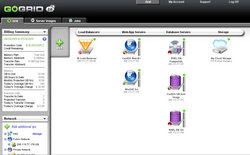 Coming out of beta is an important achievement for GoGrid
San Francisco, CA (Vocus) August 19, 2009
Today GoGrid, the Cloud Computing service from ServePath, officially announced that its core cloud computing infrastructure hosting product is out of beta. GoGrid version 2.0 was released on August 6th, 2009, which included the important MyGSI feature that gives users the ability to create personal server images for rapid server cloning or parking.
With over a year and a half of innovation, development and engineering refinements, coupled with thousands of live customers running both Windows and Linux server infrastructure, GoGrid is clearly a leader within the cloud infrastructure hosting marketplace. Recently positioned in the "visionary" quadrant by a leading analyst firm, GoGrid enables IT professionals to have an alternative to costly dedicated, colocated or private datacenters by hosting that infrastructure in the GoGrid cloud.
Some notable points of GoGrid 2.0 and GoGrid in general:

Ability to create, save, store and deploy custom server images (MyGSIs) – NEW
99.99% uptime delivered since the start of Q2 2009 - NEW
Dramatic reduction in server deployment times - NEW
Award-winning management web portal – NEW UI enhancements
Programmatic control using REST-like API under Creative Commons Share Alike license - UPDATED
Windows Server 2008 & 2003 - UPDATED
Red Hat Enterprise Linux 4 & 5.1 - UPDATED
CentOS Linux 4.4, 4.5 & 5.1 – UPDATED
PHP 5, mySQL 5, PostgreSQL 8.1.1, Apache 2.2 – UPDATED
IIS 6 & 7, ASP.NET – UPDATED
Microsoft SQL Server 2005, Microsoft SQL Server 2008 Express, Workgroup & Standard - UPDATED
Persistent storage on all GoGrid Cloud Storage
Cloud Storage with 10 GB free
Free f5 load balancing
Cloud Connect feature to privately link the GoGrid cloud to dedicated or colocated environments within ServePath for hybrid infrastructure
Free, static, contiguous blocks of public IP addresses
Public and private networking within GoGrid Cloud
Free 24/7/365 support
"Coming out of beta is an important achievement for GoGrid," said John Keagy, CEO and Co-Founder of GoGrid and ServePath. "This notable event further affirms our commitment to providing our customers with an enterprise-ready product, complete with the product and support infrastructure that our customers demand."
GoGrid Version 2.0, complete with the new MyGSI functionality, is currently available to all GoGrid customers, and also includes a number of feature enhancements as well as improved server deployment speeds. Details of these and other new features in this important release can be found at the GoGrid "What's New" page, the GoGrid blog, the GoGrid Wiki and GoGrid User Forums. For details or to sign up for GoGrid Cloud Hosting, please contact a Sales Representative at: http://www.GoGrid.com.
About GoGrid – http://www.GoGrid.com
GoGrid is a leading Cloud Infrastructure Hosting provider that delivers true "Control in the Cloud™". GoGrid enables system administrators, developers, IT professionals and SaaS (Software as a Service) vendors to create, deploy, and control load balanced cloud servers and complex hosted virtual server networks with full root access and administrative server control. GoGrid server instances maintain the industry standard specifications with no requirement to learn and adapt to proprietary standards. Bringing up servers and server networks takes minutes via a unique web control panel or GoGrid's award winning API. GoGrid delivers portal controlled servers for Windows Server 2008, Windows Server 2003, SQL Server, and ASP.NET. GoGrid also hosts multiple open-source server operating systems including several Linux operating systems (Red Hat Enterprise and CentOS) and supports application environments like Ruby on Rails. Free f5 hardware load balancing and other features are included to give users the control of a familiar datacenter environment with the flexibility and immediate scalability of the cloud, a "cloudcenter." GoGrid won LinuxWorld Expo's 2008 Best of Show award.
About ServePath - http://www.servepath.com
ServePath, a Microsoft Gold Certified Partner, is the leading managed and dedicated hosted server provider, delivering custom solutions and managed services to businesses that require powerful Internet hosting platforms for their production environments. Thousands of companies worldwide look to ServePath for its reliability, customization, and speed. ServePath has a Keynote-rated A+ network and guarantees uptime with a 10,000% guaranteed™ Service Level Agreement. The employee-owned company has been in business for nine years and operates its own San Francisco data center and is SAS70 Type II certified. ServePath uniquely delivers server infrastructures optimized for complex databases with cloud front-ends and application servers with Cloud Connect.
###