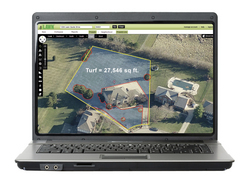 We want our customers to grow their businesses with Go iLawn. The improved site functionality makes it even easier to use. Contractors can deliver bids in the hands of prospective or existing customers faster than before
Cincinnati, OH (Vocus) October 6, 2010
Go iLawn is an online property measuring service that allows contractors to search, identify and measure properties with just a few clicks of a mouse. Contractors can accurately and efficiently bid more properties from the convenience of the office.
"With over 4,000 contractors across the United States and Canada adopting Go iLawn, we listen to what our users need the most from our technology" says Grant Gibson, President of Go iLawn. "We want our customers to grow their businesses with Go iLawn. The improved site functionality makes it even easier to use. Contractors can deliver bids in the hands of prospective or existing customers faster than before".
Go iLawn features include:

100% Coverage of United States and Canada
Search by business name, location, intersection, landmarks and other points of interest
Point and click measuring tools
Save property measurements to use at a later date
Color code, label, copy and edit measurements
Convert units of measure (square feet to acres on the fly)
Go iLawn is more than a measuring service. A contractor has the ability to extract owner name, property value, complete mailing address with carrier route, land use identifier and other vital information necessary to provide an accurate bid. The property reports are available for residential, commercial and industrial properties.
Residential contractors can access the demographics of a neighborhood. Demographics include household income, average property value, and the average spent on home maintenance, pets, and lawn services during the past year. This feature provides a competitive advantage when marketing to prospective customers.
"We tell contractors Go iLawn is a great supplement to when the contractor actually visits the property. Measuring the turf, mulch, shrubs, trees, asphalt, concrete and other items of interest prior to the property visit allow the contractor to spend more time with their prospective customer. We encourage contractors to complete measurements before visiting the property to make the property visit that much more productive. Our users know the exact number of man hours, the correct amount of materials to purchase and in turn they are able to demonstrate to the customer they know how to execute the job" states Mike Rorie former President of Ground Masters and now CEO of Go iLawn.
The ability to connect with the customer's job site so quickly and with the pertinent facts is an advantage that contractors don't want to live without once they discover Go iLawn.
Click here for a free trial of Go iLawn. Enter promo code: PR10
Take 80 seconds and watch "What is Go iLawn" at http://www.goilawn.com.
###