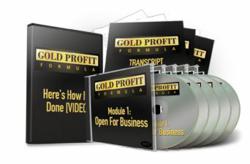 The Gold Profit Formula has been consistently held as one of Absolute Wealth's capstone programs.
Austin, TX (PRWEB) April 05, 2013
Gold business startup advice is being shared by Absolute Wealth's Gold Profit Formula, which a recent online article said is dedicated to helping entrepreneurs get set up with the right tools and knowledge for precious metal opportunities. The program is assisting people with their individually owned precious metal businesses, and providing support and resources for creating a real chance at success.
The Gold Profit Formula has been consistently held as one of Absolute Wealth's capstone programs, said the article. A large community of jewelry dealers and precious metal traders already owe their success to the system. The experts behind the creation of the program have continuously improved the approach and updated the content, and helped numerous entrepreneurs develop their own individually-owned business.
People who learn the ins and outs of the precious metal game in this opportune time can find the advantages of a truly lucrative business, according to the article. Becoming a personal jewelry dealer will give individuals an edge over larger, more established businesses because of the customized relationship and trust built between client and jeweler, said the online piece.
Resources that help people learn how to weigh, test, and value gold are included in the Gold Profit Formula, and insider knowledge is shared exclusively with program members. The Gold Profit Formula provides audio, video, and written training modules to teach people how to cash in on this trend.
The entire program is housed in a secure, members-only online area which can be accessed at any time from any internet-capable device.
The AbsoluteWealth.com article said gold buyers and sellers need to know what types of pieces will get good money, and shouldn't be used as scrap. But with the precious metal prices so high, they'll be making cash off old rings, necklaces, and watches in no time. Gold Profit Formula will also guide people in finding value in outdated pieces, mismatched jewelry, coins, silverware, and just about anything else made out of precious metals.
Absolute Wealth is an expert team of real investors and advisors devoted to identifying winning strategies for exceptional returns. Members subscribe to the company's Independent Wealth Alliance for professional investment analysis on the latest market trends and progressions. For more information and subscription instructions, visit AbsoluteWealth.com.
Absolute Wealth's programs offer more than the typical business-starting program, said the article, and Gold Profit Formula is the perfect example of that. The article said that anyone can start making income and execute their own gold business startup.