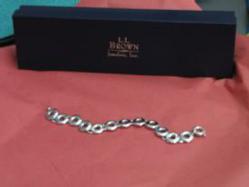 We are proud of our service to the community and the donation to the Red Cross
San Francisco, CA (Vocus/PRWEB) April 06, 2011
LL Brown Jewelers, Inc. has been recognized in San Francisco for their fine jewelry selection, repair services, and assistance with buying and selling diamonds and gold for the past 30 years. Their commitment to giving back to the community is less well-known, but no less vital. The store has long donated 10 percent of its gold buying profits to charity, and is now focusing this donation on the American Red Cross Bay Area Chapter. They have also donated a sterling silver bracelet to the Red Cross to be auctioned at an upcoming fundraising event.
"We are proud of our service to the community and the donation to the Red Cross," said Kenneth R. Brown, President and CEO of LL Brown Jewelers. "These donations go to help our Bay Area needs as well as worldwide needs."
Customers have the opportunity to turn an idle asset, such as a piece of jewelry, into cash while also knowing that a portion of the money will go to the Red Cross. LL Brown Jewelers pays high dollars for gold, silver, diamonds, platinum, jewelry and watches. Those in need of jewelry repair can feel good knowing that they are receiving expert repair and contributing to a worthy cause at the same time.
LL Brown Jewelers has also donated a sterling silver women's bracelet to the Bay Area Chapter's annual Red Cross Gala, which will be held in Union Square on Saturday, April 16, 2011. The event brings local philanthropists together for an evening of dinner and dancing. The bracelet will be among items to be auctioned to benefit local disaster relief and readiness efforts.
These efforts are part of the philosophy of LL Brown Jewelers, which has a long history of community involvement and charitable donations. Past beneficiaries include Project Homeless Connect, which works to get people off the streets and into housing.
For more information about contributions to the Red Cross or any other service or product from LL Brown Jewelers Inc., call them at 415-692-5635, visit them on the web at http://www.llbrownjewelers.net/, or come by their store located at One Embarcadero Center on the street level in San Francisco.
About LL Brown Jewelers Inc.
With nearly 30 years of experience in the jewelry industry, LL Brown Jewelers, Inc. provides a range of services, such as jewelry repair and watch repair in San Francisco. They buy diamonds and sell diamonds and buy gold and sell gold in San Francisco.
San Francisco jewelry repair specialist LL Brown Jewelers is open from Monday through Friday, 10:00 a.m. to 5:00 p.m. The store has expert buyers on staff and offers jewelry repair services. LL Brown Jewelers carries popular name brands such as Movado, Waterford Crystal, and Reed and Barton. They also have a wide variety of stones like diamonds, rubies, sapphires, emeralds and pearls.
###