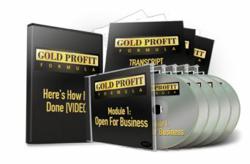 The Gold Profit Formula gives people the ability to learn how to refine and resell gold and jewelry.
Austin, TX (PRWEB) February 08, 2013
Gold dealing skills can reward regular people with an opportunity to earn extra income based on the current high gold prices, said a recent Absolute Wealth article. They can learn those skills with a membership to the Gold Profit Formula, Absolute Wealth's preeminent precious metal dealing system.
Members of the Gold Profit Formula will find everything they need to get started in the exclusive program website, said the article. Training modules in the form of videos, written transcripts, and audio recordings are all available 24/7 from any internet-capable device. Through the lessons and resources of the Gold Profit Formula, jewelry dealers will learn the ins and outs of running their own business, according to the article.
Personal gold and jewelry dealers have found loopholes in the gold dealing business that can generate the kind of profits expected by a major refining company or a large-scale jewelry organization. With personal touches and customizable offers, an individual dealer can create a business using the Gold Profit Formula, and benefit from the high gold value in today's economic market, according to Absolute Wealth.
The article said that while the value in gold stays at such highs, even the seemingly useless pieces people part with for little to nothing is worth something. The Gold Profit Formula gives people the ability to learn how to refine and resell gold and jewelry.
The world of gold and other precious metals is an interesting place, and one that the article said is as dynamic and involved as any other money-making arena. Devoting the time and effort into becoming a good personal gold dealer will create the kind of dividends that people would only expect from a lifetime of experience.
The article said the Gold Profit Formula was devised with the help of a trained professional, and uses years of experience to create a foolproof system for dealing gold and jewelry. It's an all-inclusive program that will teach anyone what they need to create their own profit-generating business endeavor.
Absolute Wealth is an expert team of real investors and advisors devoted to identifying winning strategies for exceptional returns. Members subscribe to the company's Independent Wealth Alliance for professional investment analysis on the latest market trends and progressions. For more information and subscription instructions, visit AbsoluteWealth.com.
Absolute Wealth created the Gold Profit Formula with intentions of sharing the vital information and expert suggestions required for a true business-building opportunity. The article said the program shares the tips for developing gold dealing skills that anyone can translate into the source of a new and promising profit accumulation.