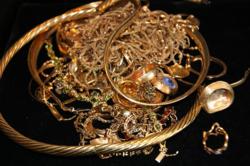 I found out you really need [to take your gold to an] expert to find out the value
Mill Valley, CA (PRWEB) November 30, 2011
Well-known consumer advocate, Michael Finney, of KGO TV's 7-On-Your-Side recently visited Collectible Coins & Jewelry. The very next day, KGO aired Michael Finney's report "Selling your gold" on their 11 pm news broadcast. In his report, Mr. Finney clearly showed that Collectible Coins & Jewelry offers gold sellers a fair and honest price. Mr. Finney also voiced his fair and honest assessment directly to the shop's owner, Carter Collins, during his on-site visit.
Prior to the KGO broadcast – and two weeks before Michael Finney stopped by Collectible Coins & Jewelry – he sent intern, Krista Williamson, "undercover" to check out Bay Area gold buyers. Ms. Williamson reported to KGO viewers that she took some gold jewelry to [Collectible Coins & Jewelry], and "[Carter Collins] looked at it and spent a lot of time with it." In fact, Michael Finney's report showed that the amount Mr. Collins offered Ms. Williamson was the highest offer made – significantly higher than one of his gold buying competitors. According to Ms. Williamson, "I found out you really need [to take your gold to an] expert to find out the value."
Carter Collins is just the sort of expert Ms. Williamson was referring to. His shop, Collectible Coins & Jewelry, has been on the Marin gold exchange scene for more than 20 years – buying and selling a variety of silver and gold coins and antique jewelry. Mr. Collins is a professional numismatist and a coin enthusiast who provides friendly, polite customer service along with his market expertise. He offers the greatest possible value, based on the current price of gold and other precious metals -- paying top dollar cash to buy your silver, gold coins, and jewelry.
For more information, contact Collectible Coins & Jewelry at (415) 322-3431 or stop by their Mill Valley location at 226 Shoreline Highway. You can also visit them on the web at http://www.goldexchangemarin.com to learn more about their business. The shop is open 6 days a week and is centrally located – right in Tam Valley, just off the 101 exit in Marin.
###