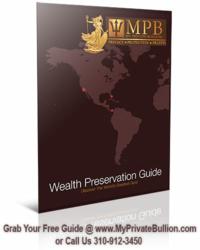 Whether you consider gold bars or gold coins, more and more investors and IRA holders are beginning to realize that the best way to invest in gold is to simply own it
Culver City, CA (PRWEB) May 13, 2013
Due to the success of their recent offer to all new retirement plan customers, My Private Bullion (MPB) announces today the extension of its No Cost Gold IRA. Originally conceived as a limited time offer, MPB had previously offered new retirement plan customers free IRA custodial and storage fees for the first two years. Since the debut of the offer, MPB has experienced significant increases in their retirement plan business and, as a result, now plans on extending the offer through the end of 2013.
"The market events in precious metals recently proves that this is a good time to buy gold. And our company felt it was important to make a practical and useable offer to real Main St. folks so they could take advantage of the outstanding bargain pricing currently available on gold and other precious metals," said Tom Kelly, Sales Manager and retirement plan specialist at MPB. He adds "This is probably one of the best opportunities for investing in physical gold for an IRA in about 4 years." Kelly is referring to the recent correction in gold prices from $1,561 on April 11 to a current level of approximately $1,425, a decrease of roughly 9%.
According to MPB managing director, Alex Viera, "We are pleased with the success of this offer, but are not exactly surprised. When you consider what the actual needs of today's investors are, and follow that up with an offer they can save real money with, then the marketplace responds." Viera has been in the industry for over 25 years and has seen a remarkable evolution take place with the consumer. He adds, "Whether you consider gold bars or gold coins, more and more investors and IRA holders are beginning to realize that the best way to invest in gold is to simply own it. Own the physical metal itself. People want to protect their wealth and their retirement plans from inflation and the continued decline of the dollar. Our offer makes this a little easier for them and we believe it is the best way to invest in gold throughout the entire industry."
More information about the No Cost Gold IRA is available through contacting My Private Bullion directly either by phone or email.
To learn more about retirement plan investing in gold, silver, platinum, and palladium, please visit http://www.myprivatebullion.com or call 310-912-3450.
ABOUT MY PRIVATE BULLION
At My Private Bullion, individual service, asset protection strategies and wealth management solutions are the foundation of our business. The company also belives that today's investors need a protection plan and a profitability plan that the rest of the precious metals industry is simply not providing.
My Private Bullion's specialty is finding specific coins for buyers that will increase over time, well above bullion coins of similar prices. The company's services include individuals, IRA's, 401K's and entire company retirement plans. MPB's commitment is to learn an investor's individual goals and objectives, and tailor personalized solutions to meet their specific needs.