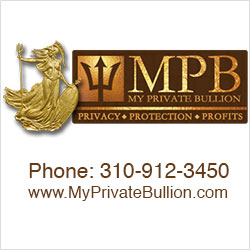 Whether the retirement plan is a Traditional, Roth, SEP, SIMPLE, or 401(k), MPB has successfully provided clients with the best way to buy and invest in gold and other precious metals for their retirement accounts
Los Angeles, CA (PRWEB) April 17, 2013
My Private Bullion (MPB) announces today that it has broadened its scope and now offers the most unique precious metal IRA products and services in the industry. In addition to the standard and customary products offered by practically all gold IRA companies, MPB is one of the few, and perhaps the only company to put rare and collectible coins in an IRA.
Whether the retirement plan is a Traditional, Roth, SEP, SIMPLE, or 401(k), MPB has successfully provided clients with the best way to buy and invest in gold and other precious metals for their retirement accounts. In addition to rare and collectible coins, MPB also announces that it can place rare earth metals into IRA accounts. Sometimes referred to as strategic metals, rare earth elements are those found throughout high tech and defense related industries world-wide.
According to Tom Kelly, sales manager for MPB and retirement plan specialist, "we know of no other company that is successfully putting collectible coins into retirement plans, and believe that no other company is working with rare earth and strategic elements at all." In addition, MPB designates segregated storage for all of its clients retirement plan metals. Alex Viera, managing director of MPB states, "without segregated storage, a client's specific coins will end up being comingled with everyone else's gold. This places unnecessary risk on the client because in a comingled situation, there cannot be any guarantee that the specific gold you put in will be the same gold you can take out."
Another service available to retirement plan clients is international storage. For those clients who wish to store their gold off shore, several options are available. This past December, Tom Kelly and Alex Viera spent time in Panama setting up this service and paving the way for other services to be made available in the future. "Some clients have different needs and desires for how and where their wealth is stored. We make it easy for them to have the greatest amount of flexibility. We also have a qualified tax attorney available for clients who have more complex issues to handle."
MPB will continue to expand its service and product mix and anticipates being able to make new announcements soon regarding further off shore services.
To learn more about retirement plan investing in gold and other precious metals, please visit http://www.myprivatebullion.com or call 310-912-3450.
ABOUT MY PRIVATE BULLION
At My Private Bullion, individual service, asset protection strategies and wealth management solutions are the foundation of our business. The company also believes that today's investors need a protection plan and a profitability plan that the rest of the precious metals industry is simply not providing.
My Private Bullion's specialty is finding specific coins for buyers that will increase over time, well above bullion coins of similar prices. The company's services include individuals, IRA's, 401K's and entire company retirement plans. MPB's commitment is to learn an investor's individual goals and objectives, and tailor personalized solutions to meet their specific needs.