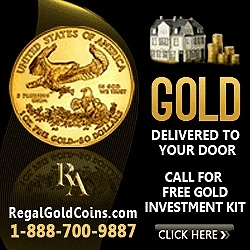 Gold Has Been A Global Currency For 6000 Years
New York, NY (PRWEB) July 19, 2010
Regal Assets has launched its new innovative gold retirement program initiative. For a limited period of time new clients purchasing physical gold while setting up their Gold IRA retirement plans will receive a free gold coin in their hand, which can amount to as much as an ounce of gold valued at over $1,200.00. The great part about this program is that clients will receive this gold coin in their hand so they can have a taste of what owning physical gold is like. The aim of this gold retirement plan initiative is to get people to roll over their existing retirement plans into gold so they can start protecting their wealth from impending inflation.
Most investors today are not aware of the fact that gold is the ultimate hedge that can be used against stock market losses and more importantly inflation. According to industry advisors, this is the right time for investors to purchase gold because all paper assets are continuing to devalue. Investment experts say that gold is the only way to go and is evident with the 400% appreciation it has had in the past few years. This is in contrast to the stock market that has been very unstable and unpredictable plummeting way below average levels.
By including physical gold coins in your retirement account, you reduce your retirement portfolio volatility. Gold is a tangible asset that can safeguard your retirement portfolio and ensure profitability at every stage irrespective of your traditional investment preferences.
Gold cannot be devalued by any government and is not regulated by rates of interest or policy changes. No banker or politician can mess with the price of gold which is one of the secrets behind its steady growth even under tough economic conditions.
Regal Assets has made it extremely accessible for clients to roll over their existing retirement plans into physical gold coins. It is as simple as calling 1-888-700-9887 filling out a standard one page form and letting the Regal Assets retirement account department take care of the rest. They work with your existing custodian to roll over your desired amount into a gold backed Gold IRA retirement plan so you do not have to worry about being overloaded with the process.
If you are looking for more information on buying physical precious metals through your existing retirement plan and want to benefit from the free gold coin offer, please call 1-888-700-9887 to speak with a retirement account specialist or visit http://www.RegalGoldCoins.com
###