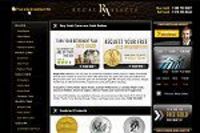 Universal City, CA (Vocus) August 30, 2010
Gold price experts and financial advisers from all parts of the world have been crunching numbers and coming to the same conclusion that the price of gold will continue to go up. While opinions vary on how much, it is clear that the margins are large and that now is the time to buy gold bullion coins. China is leading the pack for countries who have started buying gold in large quantities and have even implemented a 10 year gold buying program.
An iInternal client note from Citibank has estimated gold could rise above $2000. Tom Fitzpatrick, the bank's chief technical strategist has pointed out that China is boosting its gold reserves from 600 tonnes to nearer 4,000 tonnes to diversify away from fiat paper currencies like the US dollar. India, Japan and Korea have also started to encourage their citizens to personal acquire gold bullion coins to hedge against the global market.
Chief executive of Euro Pacific Capital, Peter Schiff, correctly predicted the Dot-Com bust of 1999-2000 and has been holding steady that gold will see $2,000 and is other expert to calculate a number of factors that point to a $5,000 figure. Investors impacted by the internet bubble have been paying close attention to market and are one of the groups diversifying in gold coins.
Peter Krauth, Contributing Editor for Money Morning has been educating others to compare the 1980 peak gold price at $850 and adjust it for inflation. That would take the price of gold to $2,400 in present-day terms. His research also points out the historical landmarks of gold in the 1970's and has shown where gold would gain to $5000.
Philip Manduca, head of investment from ECU Group, told CNBC back in 2008 that the price of gold could go as high as $2,000 by end of 2010. He pointed out that America would see signs of a bounce back because of the stimulus package and optimism, however that currency debasement and inflation will still have to be recognized. While the accuracy of his prediction may not happen this year, experts do agree that his reasoning is valid and it's just a matter of time.
Specialist at Regal Assets have been educating Americans looking to invest in gold to avoid the risks of electronic gold investment and actually take possession. Regal Assets allows theirs clients to order gold and silver and have it shipped direct to their home. They also have been diversifying retirement programs and transferring clients 401k into a Gold IRA where retirement plans are backed buy physical gold. Gold can be ordered over the phone at 1-888-700-9887 or online at http://www.RegalGoldCoins.com.
# # #