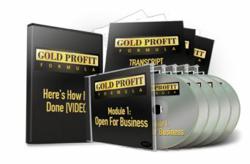 The Gold Profit Formula boils down a career's worth of experience in the jewelry business and delivers in an easy-to-understand format.
Austin, TX (PRWEB) February 14, 2013
Gold business owners have been reaping the benefits of a lofty and inflated value tagged on the precious metal market, said a recent AbsoluteWealth.com article about the latest product from the financial information company. Absolute Wealth is aiding in the search for advice and suggestions to further a realistic opportunity with their updated Gold Profit Formula, a members-based subscription program guiding personal gold and jewelry dealers.
Finding alternative methods of making an income has become a common practice in today's economy, and the Absolute Wealth article said smart opportunists know how to make the most of a given chance. Gold value currently sits in the $1,600 range, and shows little indication of a fallout significant enough to change the way things are currently standing, according to the online piece.
With such a high perception of gold value, the public is rushing to cash in on the unwanted and unused pieces of jewelry to make ends meet, said the article. If a business owner is at the other end of that transaction, and has a grasp of the basic gold dealing practices, then the article said they will be filling a role that is needed and earning smart entrepreneurs great returns on investment.
The Gold Profit Formula boils down a career's worth of experience in the jewelry business and delivers in an easy-to-understand format. Content includes video trainings, audio recordings, and online resources for access on demand, from any Internet-capable device.
The article said any business startup requires a basic knowledge of the area of expertise, and the Gold Profit Formula helps develop that expertise no matter where a member starts. The level of previously gathered knowledge doesn't matter if the Gold Profit Formula serves as the guide, according to the article.
The Gold Profit Formula advises members on ways to test precious metals and determine offer prices on specific pieces. Whether its scrap gold or family heirlooms, the article said everything has a value, and knowing how to approach proper deal making will earn anyone a chance at success.
Absolute Wealth is an expert team of real investors and advisors devoted to identifying winning strategies for exceptional returns. Members subscribe to the company's Independent Wealth Alliance for professional investment analysis on the latest market trends and progressions. For more information and subscription instructions, visit AbsoluteWealth.com.
The online article said now is the perfect time to learn about the genuine profit-building opportunity available to people who want to be smart about their personal financial well-being. Absolute Wealth's Gold Profit Formula is advising on the processes involved with starting a gold business, and helping entrepreneurs fully understand it, said the article.