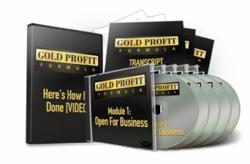 The Gold Profit Formula gives people a crash course in the intricacies involved with jewelry and precious metal dealing.
Austin, TX (PRWEB) April 17, 2013
Gold dealing business opportunities have presented themselves in the past several years, and the newest Absolute Wealth article said it is mainly due to the fact that the price of the precious metal has maintained such a high value. Absolute Wealth is capitalizing on this with their Gold Profit Formula membership program.
The Gold Profit Formula gives people a crash course in the intricacies involved with jewelry and precious metal dealing, helping them learn how to determine values and fair offers for people's unwanted pieces. Whether it's scrap gold or family heirlooms, there is always a way to exchange it for money, and the article said serving as the middleman between folks and refining companies can generate real income.
Gold, as well as silver, diamonds, and gemstones are being used as money-making avenues for regular folks looking to earn a little extra cash in these money-strapped times, according to the article. The economy has struggled and job security is lacking, forcing people to find other ways to pay the bills and provide for their families. The article said when they're approached by personal jewelry dealers who are educated and customer-oriented, they are much more likely to do business and feel good about the money they earn.
In turn, the jewelry dealer is able to maximize their profits by working directly with refiners and even reselling the items to others who covet them more than the original owners. The article said the Gold Profit Formula walks members through the process of educating themselves and using the tools and processes to determine fair offers and maintaining a strong customer relationship.
The Gold Profit Formula member's area houses all the training modules and resources, and was created with the help of a seasoned jewelry professional. The insider's advice is only available from Gold Profit Formula, and the system presents information not found anywhere else, according to Absolute Wealth.
Absolute Wealth is an expert team of real investors and advisors devoted to identifying winning strategies for exceptional returns. Members subscribe to the company's Independent Wealth Alliance for professional investment analysis on the latest market trends and progressions. For more information and subscription instructions, visit AbsoluteWealth.com.
Anyone who has thought the jewelry business is interesting and wants to learn more could benefit greatly from the Gold Profit Formula, said the article. It's the one source of expert information that's sure to lead them in the right direction. The article said to find out how to access the program and learn how to create a gold dealing business.