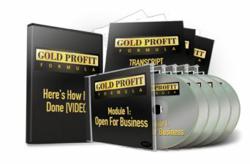 The tips inside the informational program are like getting a PhD. in gold and a master's degree in silver, diamonds, and other precious metals.
Austin, TX (PRWEB) January 24, 2013
Gold prices have seen recent highs that have attracted more than a few to learn the skills and knowledge involved in precious metal dealing, said a new article from Absolute Wealth. Thanks to the Gold Profit Formula, the article said there is now a source of expert material that will show what it takes to establish a viable business based around the excellent gold prices and the wonderful resulting opportunity.
The Gold Profit Formula is Absolute Wealth's recently updated educational program, which guides would-be gold dealers through the process of testing, pricing, negotiating, and dealing precious metals and jewelry. It's a one-stop resource for all things gold, and advises potential dealers how to start their personally-owned business and set it up for success.
The Gold Profit Formula contains several training modules, guided by an expert in the field of jewelry dealing, and takes members through the advantages provided by loopholes and secrets only experienced folks know about. The article said the tips inside the informational program are like getting a PhD. in gold and a master's degree in silver, diamonds, and other precious metals.
Pure gold bullion is able to be obtained for around $421 an ounce, which the article called pennies on the dollar compared to the price retail investors are shelling out. That same ounce of gold could go for more than $1,700, representing a fantastic ability to turn profits with a little experience and know-how, according to the article.
The struggling economy has been held up in part by the amazing gold prices that are reaching record highs, said the online piece. What most people don't realize, however, is that when push comes to shove, selling old and unwanted gold and jewelry is a quick and easy way to make cash. When a person is on the other side of that deal, their profits become automatic, and the article said their style of business becomes a walk in the park.
When bills are due and money is tight, the article said many people resort to selling their gold to the "Cash for Gold" superstores. Unfortunately for them, the big box businesses are offering prices lower than dirt and refining gold for major returns. When a personal jewelry expert takes the time and makes the effort to provide an educated and well-intended service, people jump at the chance to make a little more money from their unwanted gold, the article said. Still, it pointed out that a personal gold dealer holds more advantages over those superstores than most people would imagine.
Absolute Wealth is an expert team of real investors and advisors devoted to identifying winning strategies for exceptional returns. Members subscribe to the company's Independent Wealth Alliance for professional investment analysis and recommendations on the latest market trends and progressions. For more information and subscription instructions, visit AbsoluteWealth.com.
Before gold prices begin to slip, the article said interested folks are being encouraged to find out more about the Gold Profit Formula today.