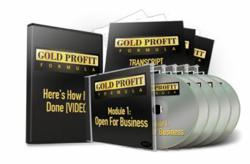 The Gold Profit Formula spells out the steps needed to test and weigh gold, silver, and other precious metals.
Austin, TX (PRWEB) April 23, 2013
Precious metal dealers are finding out how advantageous the knowledge gained from the Gold Profit Formula is, and a recent online article said it is all thanks to Absolute Wealth's expert advice. The program is a members-exclusive training system for beginner jewelry dealers, and the article said it's showing them how income can be generated with a little know-how and skill.
Gold Profit Formula members have exclusive access to training modules housed at the program's secure website, where they learn from a professional jeweler with decades of experience in the business. The training shows people how to easily and confidently determine the fair market value of anything from scrap gold to family heirlooms, and execute promising business practices that encourage more customers and more profits, said the article.
The value of scrap gold has stayed above the high water mark for several years in a row, which the article explains has been dictating the impressive returns jewelers are seeing from their transactions. When a personal jewelry dealer works directly with customers and refining companies, they see more of the profits that the typical middleman-type business would swallow up, said the online piece.
The Gold Profit Formula spells out the steps needed to test and weigh gold, silver, and other precious metals, and also shares valuable tips on using specific tools and resources to become proficient in all things jewelry. Access to the member's area is unlimited, and the training videos, audio recordings, and documented transcriptions are available from any Internet-connected device, said the article.
While investors sweat over even the slightest market fluctuation, personal gold jewelers reap the benefits of a steady and reliable business opportunity. According to the article, even if precious metal prices swing low and bottom out, jewelers are still able to find impressive returns on the pieces they buy and sell.
Absolute Wealth is an expert team of real investors and advisors devoted to identifying winning strategies for exceptional returns. Members subscribe to the company's Independent Wealth Alliance for professional investment analysis on the latest market trends and progressions. For more information and subscription instructions, visit AbsoluteWealth.com.
Absolute Wealth has been offering the Gold Profit Formula membership for years, and the article said it remains one of their most comprehensive and effective programs. The article said to learn the formula, visit the website and find out what it takes to be precious metal dealers.