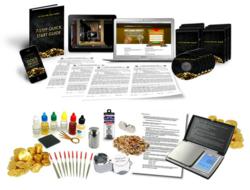 Phoenix, AZ (PRWEB) May 25, 2012
Gold Rush 2012 creators Preston Ely and Matt Wallace will launch their gold and silver buying program to the public on May 29th.
Creators of Gold Rush 2012, Preston Ely and Matt Wallace announced last week that they will be opening up their gold and silver buying program to the public on May 29th. With Gold and Silver climbing steadily over the last decade and suspicion that gold could literally become two or three times what it is worth today, it's no surprise to see a gold and silver buying product on the Internet.
So what make this product unique?
First, let's take a closer look at the authors. Preston Ely is a real estate investor, marketer, speaker and trainer. Over the years he has created several real estate self-help training programs that teach people how to invest in real estate successfully.
Matt Wallace has been in the jewelry business since high school and is simply a precious metal investor. Matt's story is that he made 1.1 million dollars in 9 months basically "flipping" gold. Together these two have created the ultimate gold buying machine, Gold Rush 2012.
Gold Rush 2012 consists of 6 modules or lessons that go in-depth into the gold and silver buying business. It's a complete one-stop-shop. They talk about the history of Gold and Silver, they explain how to test gold and silver for purity, what tools to use, how to use them, where to find the gold, how to calculate what the metals are worth, once found where to sell the gold to get the highest price, how to tell if it's real or fake and tons more.
There is a lot of counterfeit Gold and Silver going around because the prices for these precious metals have skyrocketed in the past decade. "Just use a lot of common sense," says Matt. "Trust your gut. If it's to good too be true it usually is."
Stick with trusted names like Silvertowne, Engelhard, Northwest Territorial Mint, etc., but even still don't just assume it's real. Test test test. As for the Coins, he says, "stay away from anything that has the name Chinese in it or from China. There is a lot of fake gold and silver from China."
People are getting smarter these days. Matt's been burned twice with rare coins so he encourages a deep understanding and knowledge about coins which he shares in the Gold Rush 2012 training course.
For those that are ready to buy the program visit the official site here.
For those that are looking for a full Gold Rush 2012 review and bonus visit GoldRush2012Review.net.