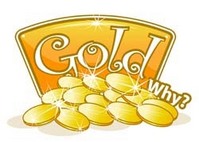 To give back and thank all loyal users, Gold Why has decided to launch the Gold Why Silver Eagle Giveaway.
San Mateo, CA (PRWEB) December 16, 2009
GoldWhy.com launched just two short years ago with the goal of offering exciting articles, information, and pictures about all aspects of gold: bullion, bars, coins, jewelry, stocks, and numismatics. The last two years have exhibited rapid growth and have included a multitude of exciting milestones. Not only has Gold Why achieved its original goal by providing over 120 articles about all aspects of gold, but Gold Why has also expanded into silver, platinum, and most importantly copper bullion. Moreover, Gold Why recently launched a new questions and answers section in addition to the Gold Why newsletter and accompanying eBook. In short, Gold Why is growing just about as fast as the price of gold bullion! To commemorate two years of solid growth and thank its loyal visitors, Gold Why is officially launching the Gold Why Silver American Eagle Giveaway and will be giving away three silver American Eagle coins away to one lucky winner.
While originally focusing on gold bullion, Gold Why quickly emerged as the Internet's copper bullion authority. The copper bullion market is relatively new. While it's grown quite a bit over the last two years along with the price of copper, the industry is still relatively new with only a few copper bullion bar mints and stores in existence. Gold Why started providing unique, unbiased, and valuable information about copper bullion bars from the early days of this rapidly growing industry. Today, Gold Why offers over 25 articles and interviews focused on all aspects of the rapidly growing copper (and metal) bullion industry. Gold Why is well respected as the leader in this space, commanding the top positions of the search results of popular copper bullion keywords.
As a byproduct of Gold Why's conversational nature, questions from readers have been plentiful over the last two years. GoldWhy.com always places its users first and does everything possible to provide thorough answers to all questions submitted by users. To start sharing these exciting gold questions and answers with all readers, Gold Why recently launched its new gold questions and answers section. While there are only five questions and answers so far, Gold Why expects to greatly expand this section with dozens of exciting gold, silver, and copper bullion answers in the coming year.
Also above and beyond the site's original charter, GoldWhy.com recently launched its gold newsletter. Excitingly, GoldWhy.com's newsletter already has over 50 subscribers. The newsletter is completely free and connects users to Gold Why's free eBook: Gold Why's Top 10 Copper Bullion Tips. Additionally, the newsletter includes articles not available on GoldWhy.com, exclusive offers, and late breaking Gold Why updates. Like the questions and answers, Gold Why expects to greatly expand the scope and offering of the newsletter over the coming year.
As described, Gold Why has had an amazing year. A lot of the success is directly attributed to strong visitor growth. To give back and thank all loyal users, Gold Why has decided to launch the Gold Why Silver Eagle Giveaway. On January, 1 2010, one lucky winner will be chosen to receive three brilliant uncirculated 2009 silver American Eagle coins. The winner will be chosen from the pool of subscribers to Gold Why's newsletter. Since the newsletter is new and number of subscribers is low, the odds of winning the giveaway are high. If the program is successful in attracting even more users to the website, Gold Why anticipates more giveaways in the future. One thing is for sure: Gold Why's 2009 was incredibly productive and 2010 is looking even better. GoldWhy.com sincerely thanks its loyal visitors.
Please visit Gold Why today at http://www.goldwhy.com/
###