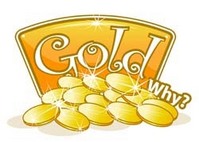 San Mateo, CA (PRWEB) January 3, 2008
GoldWhy.com has officially launched as the newest site on the Internet devoted to all aspects of gold including gold coins, bullion, investments, mining companies and jewelry. While existing websites have traditionally focused on just one or two of these aspects of gold, Gold Why is the first site to provide a comprehensive library of information on all aspects of gold. It is important that gold investors look at all facets of gold at once and the mission of Gold Why is to assist its users, both novices and seasoned gold bugs, with valuable free gold insights.
Gold Why has initially launched with three site sections: gold articles, price quotes and pictures. Articles are 700-1,000 word analysis that dive into a specific area of the gold experience with valuable insights and commentary. Price quotes are provided for gold bullion, silver, platinum and palladium, the four most important precious metals. The image gallery displays high quality images of gold and silver bullion, coins, and bars. Different than existing websites, Gold Why's pictures are high resolution and contain accompanying descriptions discussing the contents of the images. One of the most exciting aspects of gold investing is viewing the actual coins and bars.
Initial articles include the importance of diversifying within your gold bullion coin portfolio with different types and sizes of coins, a case for buying gold jewelry as an investment, and an argument why it's a better time to buy gold bullion than shares in gold mining stocks. Initial images in the gold picture gallery include the South African Krugerrand, American Gold Eagle and Canadian Maple Leaf gold bullion coins.
Gold is currently trading around $850 per ounce and has been rising steadily for the past several years, appreciating against the US dollar. There are two primary reasons for gold's strong price rally. First, gold is one of the best hedges against inflation. Inflation is a serious issue with the US dollar depreciating against gold due to a large national deficit, mortgage crisis and continued low interest rates. Second, the world is catching on that gold is the ultimate store of wealth. Adjusted for inflation, gold is well below its historic height and savvy investors are bidding up the price due to the great value gold presents. Gold Why's charter is to educate investors about all aspects of gold and provide free valuable information during this extremely exciting time for gold.
To access Gold Why's articles, image gallery and price quotes visit Gold Why.
###