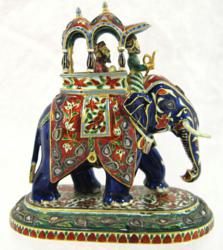 Eastern Shore, DE (PRWEB) February 14, 2013
Norb and Marie Novocin, owners of Estate Auctions, Inc. are proud to offer Four Early to Mid 1900's, Rare Indian Solid 22 Karat Gold figures. Acquired out of an estate in Northern Delaware these stunning pieces feature some of the highest standards of enamel work in the industry. The enamels of Jaipur in Rajputana are of unparalleled perfection and the artistry of the craftsmen is respected worldwide. "When we saw these we were in awe. Sure, selling a pound of gold on eBay is great but in this form is just about unbelievable", says Norb Novocin, owner of Estate Auctions, Inc.
Each completely applied with thin Jaipur enamel and accented with rose cut diamonds. The four items have a combined total weight of 299.29 dwt. (14.9645 troy ounces, $24,948 based on prices on 2/13/13) These amazing pieces of art were listed on eBay on Febuary 12, 2013, with an opening bid of only 99 cents and no reserve.
"We are confident these will end up in the hands of someone who truly appreciates the beauty of these pieces. This is a unique opportunity to retain ownership of gold and to have them offered with no reserve may be even more unusual than the items themselves."
Estate Auctions Inc. has also posted a detailed video of all pieces on YouTube.
To learn more about the Novocins and Estate Auctions, Inc. visit them on eBay, user ID EstateAuctionsInc or find them on Facebook. For consigning information call 800-573-3508. You can find their new book Getting Sold On Ebay, A Treasure Hunters Guide To Making Money on eBay or Amazon.