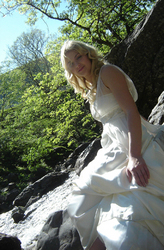 We've had a relationship with them for around 10 years
(PRWEB) July 6, 2009
For the past 10 years, Clogau has been securing an increasing amount of airtime on the UK's most popular TV shopping channel. Their unique blend of meaningful designs and exquisite quality, along with the romance of owning a touch of rare Welsh gold jewellery mined from the mountains of Snowdonia, has proved a big hit with viewers.
So much so, in fact, that Clogau are now QVC's best selling gold brand, with a growing range of QVC-exclusive Clogau jewellery pieces.
"We've had a relationship with them for around 10 years," said managing director Ben Roberts in a recent interview with The Independent on Sunday. "At first they said we'd never sell a £99 product. But we've just done a limited-edition pendant, which sold out within a day, and that retailed at £400. It's amazing how things have changed with QVC. They are now saying that ... they want higher-priced product. To see that it's gone full circle is great."
To accompany the increasing amount of airplay, QVC decided it was time to revamp their Clogau shows with new footage of chairman Bill Roberts and his son Ben talking about the early days at Clogau and the inspiration behind their jewellery.
Sychnant pass, a valley nestled between Dwygyfylchi and Conwy on the edge of Snowdonia, provided a stunning backdrop for the interviews, which had its intended effect of connecting the story of Clogau Gold to the natural beauty of Wales from where much of their inspiration comes.
The most demanding day of filming, however, took place on day 2. This would involve a 13-hour day of filming at some of north Wales's most stunning scenic locations.
Clogau's 'Golden Lady'
The aim of the filming was to show Clogau's 'Golden Lady' stylishly and elegantly wearing some of Clogau's best selling jewellery amongst the mountains, waterfalls and lakes of Snowdonia.
For nearly 2 years, the 'Golden Lady' has been a key part of Clogau's revamped identity. She represents the hidden Clogau Welsh gold within the mountains of Snowdonia, which goes into every piece of Clogau's jewellery. Partially naked and painted from head to toe in gold paint, she can been seen tastefully photographed throughout Clogau's brochures and marketing material.
For obvious reasons however, QVC wanted a slightly different approach, so they instead choose to film her wearing an elegant white, wedding-style dress without any gold paint. The model chosen by Clogau was Amy Kitchingman, a 21-year-old dance student and model from Leicester who had previously worked with Clogau on a photo-shoot in 2008 that caught the attention of several local and national media websites.
So on May 28, at 5.30am in the morning, the Clogau team and QVC film crew, along with a make-up artist and the model, set out towards their first location at the picturesque village of Llanrwst in the Conwy valley. Filming in the middle of a fairly busy village might seem like a strange place to capture the natural beauty of Wales but the river Conwy that runs underneath the 15th century stone bridge, called Pont Fawr, offered an ideal focus point from which to film a range of different footage.
After Llanrwst, a host of other locations were visited including; the stunning water-white rapids at Swallow Falls, near Betws y Coed; the lakes at Llynnau Mymbyr near Capel Curig; Llyn Gwynant, a lake that sits at the foot of Snowdon; and the dramatic 120f waterfall at Aber Falls, near Abergywngregyn.
QVC airs the footage
Overall, it was a long but very productive - and highly enjoyable - day of filming. The weather conditions had been almost perfect all day and the QVC film crew was confident that there was more than enough footage to work with.
The final cut of film was ready within a few weeks and it received its first airing on June 25th during a day that included a total of 6 Clogau shows. The end results were very impressive and really brought to life the stories and people that inspire Clogau's jewellery. The films were very slick and fresh looking and were certainly an improvement on the previous films. Obviously, only a very small amount of the day's footage was actually used but even within the tight time-constraints of the QVC films, they had managed to beautifully and accurately capture Clogau's connection to the natural beauty of Wales.
Clogau's successful partnership with QVC looks set to continue for some time yet.
# # #