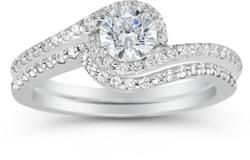 Los Angeles, CA (PRWEB) June 02, 2011
In keeping with their commitment to an ethical business model and socially conscious practice, Apples of Gold jewelry is proud to highlight a new line of selected engagement rings and wedding bands made entirely of environmentally friendly recycled gold. Listed as one of the hottest trends in engagement rings and wedding bands at TheKnot.com, recycled gold is getting positive press and a warm reception among brides and grooms looking for a greener version of gold.
Since gold is certainly not a pollutant, nor a waste material likely to clog up the planet's landfills, it isn't immediately obvious why recycled gold would be environmentally beneficial. However, in the case of gold, it is the process, not the product itself that constitutes the environmental endangerment. Gold mining and extraction can take a significant toll on communities and ecosystems, polluting land and water systems, using large quantities of energy, and generating exorbitant waste.
Recycled gold is not the cure-all for the environmental challenges that face the gold industry. Many recognize the need for reforms in favor of "responsibly mined" gold and other precious and semi-precious metals. However recycled gold represents a positive first step and helps to ease reliance and dependence on newly mined gold.
The decision to offer recycled gold jewelry as part of the Apples of Gold product line grew organically out of their commitment to Biblical business practices. Care of creation is a part of that model. The heart of the company shines through in their desire to add products to their line that represent both social and environmental consciousness. While not all Apples of Gold jewelry items use recycled gold, Apples of Gold continues to seek new sources and product lines that accord with this vision.
Ethical business practice has long been a part of the Apples of Gold calling card. Founded in 1999, the company set out to develop a jewelry company that would not only do well, but would do good. Ethical, value-based pricing practices, which maintain an average of 50% below retail markup, were the foundation. The Apples of Gold commitment to quality in their products and the highest standards for customer service, care, and satisfaction come naturally. In an industry that isn't always as sparkling as the products it offers, Apples of Gold sets a shining example.
###