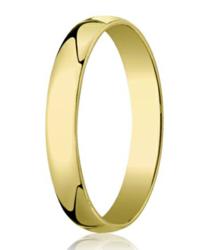 Just Men's Rings has just commenced a special holiday sale on a wide selection of affordable and luxurious gold men's rings and wedding bands by premier designer brand Benchmark.
Jensen Beach, FL (PRWEB) December 12, 2012
Black Friday may be over, but holiday savings are still going strong at online men's jewelry superstore JustMensRings.com. JMR has just announced a special seasonal sale on designer men's gold wedding bands and fashion rings. While Just Men's Rings is already known for having some of the best prices for men's rings online, this limited time sale allows customers to take an additional 10% off highly sought after styles of gold men's rings and wedding bands by noted jewelry designer Benchmark.
Gold rings are often thought to be the most popular and traditional of wedding bands. While classic options abound in JMR's gold designer ring sale, the selection of discounted styles ranges greatly, from plain domed bands to intricate diamond accented contemporary styles. In keeping with a company pledge to cater to all tastes and budgets, JustMensRings.com offers gold designer rings in a variety of colors and karat purities, including affordable 10K yellow and white gold, mid-market 14K yellow and white gold, and luxurious 18K yellow, white and rose gold.
The designer brand carried exclusively by Just Men's Rings, Benchmark is one of the foremost producers of men's rings and wedding bands. Benchmark's gold rings are made in the United States using the highest standards of design craftsmanship and production. The commitment to quality doesn't just end at the manufacturing process: Benchmark stands behind each of its designer rings with a Lifetime Guarantee, which includes lifetime resizing and refinishing.
Shoppers looking to save on high quality men's rings and wedding bands for Christmas, Valentine's and upcoming winter and spring weddings and anniversaries will no doubt rejoice at this aptly timed sale, with savings up to 75% off. Despite being one of the oldest materials used in jewelry making, gold continues to hold a real value, making it an excellent jewelry investment. Despite the luxurious appeal of this precious metal, JMR's selection of designer men's gold wedding bands start under $100, making them accessible for nearly any budget.
"We highly value our relationship with our customers as well as our long-held partnership with Benchmark," states Just Men's Rings' president and owner Roy Devine. "We love the idea of making Benchmark's handsome gold rings even more accessible to JMR's shoppers."
The sale on designer gold rings at Just Men's Rings is for a limited time and only while supplies last; shoppers are encouraged to shop early to secure the styles they want. Other items currently on sale at Just Men's Rings include men's rings and wedding bands in other precious metals like platinum and palladium, as well as rings in contemporary materials like titanium, tungsten, stainless steel, cobalt chrome, ceramic and Argentium silver. In addition to the heavily discounted prices on designer men's gold wedding bands and the designer Lifetime Guarantee, JMR offers a 30 day money back guarantee on all products and free shipping for a limited time on all holiday orders.
About JustMensRings.com
At internet-only retailer JustMensRings, customers have come to expect the best possible prices on an extraordinary selection of men's rings, as well as the highest standards of service, selection and quality. The proof is in the numbers: JustMensRings.com now offers the largest selection of men's fashion rings online, and is the only store in the United States that offers men's large size rings up to size 20. JustMensRings leads the competition with an unparalleled assortment of unique and alternative men's wedding rings in a range of traditional and contemporary materials including gold, platinum, palladium, titanium, tungsten, silver, stainless steel, cobalt chrome and Seranite (or ceramic). Despite the recent rise in gold prices, JustMensRings continues to keep item pricing low and affordable, and shoppers would be hard-pressed to find better deals elsewhere. JMR is dedicated to providing its customers with a simple and secure online shopping experience, and offers a 30 day guarantee and free shipping on all orders over $99.
For more information on JustMensRings, please visit http://www.justmensrings.com.