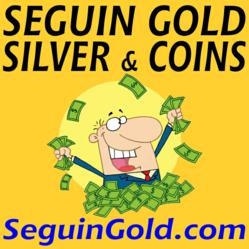 I was so pleased with not only the price they offered but the customer service was amazing. I recommend anyone to try this place. Went to another place and they offered me about $200 less. thanks!
Seguin, Texas (PRWEB) October 29, 2012
Many residents in the Seguin, New Braunfels, McQueeney, Gonzales, Luling, San Marcos, La Vernia, San Antonio and Austin Texas areas need money now or have been in a bind when the banks weren't open or simply didn't have money in the bank in the first place. In those types of predicaments they have turned to Seguin Gold Silver and Coins for help. Those customers have received extra money when they needed it, without delay, by selling their unwanted gold and silver. People are pleasantly surprised to learn that Seguin Gold Silver and Coins business hours are 7 AM to 11 PM seven days a week, with 24 hour emergency service available. No other gold and silver buyer in the area matches that level of customer service or even comes close. Customers have raved: "Great hours", "the best hours".
"Most rewarding, friendly, amicable service. Unbeatable hours of operation! Are you kidding?" said Michael MacKenzie, Seguin Gold Silver and Coins customer.
With busy lifestyles, long hours at work and a difficult economy many people don't have time for errands during the typical "9-5" hours. Since Seguin Gold Silver and Coins extended their hours back in August 2012 they have seen an increase in early morning and late night customers, which shows that there is a demand for "out of the box" hours. And when someone needs gas in their tank or food in their fridge but no money to pay for it, a little gold or silver and a precious metals buyer with super convenient hours can be a lifesaver.
Jorge Gurza, owner said, "With Seguin Gold Silver and Coins, if you need cash for gold, cash for silver, cash for jewelry and cash for coins, you'll get it! We had a lady stop by the other night because she couldn't cash her paycheck due to her bank being closed and she really needed some money to tide her over."
Another customer had some late night car trouble and sold some of his gold and silver in order to get his car towed/flat fixed and many people have stopped by early in the morning simply because that's the only free time they have and they need money now! and other precious metal buyers are not even open." Gurza added.
Seguin Gold Silver and Coins is open every day 7 AM to 11 PM. They buy gold, silver, platinum, jewelry & coins. They serve Seguin, New Braunfels, McQueeney, Gonzales, Luling, San Marcos, La Vernia, San Antonio, Austin & other Texas cities.
For more information call (830) 556-1966 or go to http://www.seguingold.com
Para informacion en Español llame (830) 556-1966 o visite http://www.seguingold.com/espanol
###