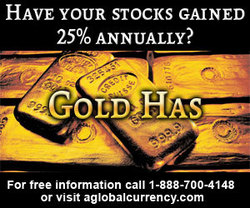 Convert your paper assets into global wealth with gold
Lanham, MD (PRWEB) October 28, 2009
Global Gold Group, Inc., recently launched its precious metals incentive program to promote gold investment. Anyone who calls in for a free portfolio analysis will receive a Kennedy silver half dollar. Global Gold Group seeks to get people accustomed to holding onto precious metals, notably gold, as opposed to the declining dollar. This offer is available while supplies last.
"Convert your paper assets into global wealth with gold," urges a Global Gold Group representative "Everyone needs precious metals nowadays, especially with the declining value of the U.S. dollar and the increasing value of gold."
With over 50 years of combined experience in gold investment, Global Gold Group's specialists are trained to lend expertise to beginner, intermediate and experienced gold investors. Learning how to earn more interest in the precious metals market is crucial when the stock and paper markets are experiencing significant turmoil.
Investing in gold is particularly important to those with IRAs, self-directed 401Ks and other retirement funds. In order to protect these funds, it is necessary for Americans to diversify their portfolios by hedging them with gold. Global Gold Group's specialists are eager and ready to help roll over existing IRAs and 401Ks into gold backed IRAs.
"Gold is not a luxury, it is a necessity," notes Global Gold Group.
With a gold backed IRA, an individual's funds are invested in gold, which is much less likely to depreciate in value compared to stocks, bonds or other investments backed by paper currencies.
Since gold is not reliant on the markets, its value is less likely to depreciate and will continue to be the preferred metal in most countries. As the most traded and well-known liquid commodity in the world, gold has tripled in value over the past seven years. During that time, it has accrued between 20 to 30 percent per year - meaning that anyone investing in gold could possibly double their wealth every three to four years.
About Global Gold Group, Inc.
Global Gold Group, with its knowledgeable staff and combined 50 years of hands-on experience with precious metals, seeks to educate investors on how to diversify and hedge their paper assets with gold. Global Gold Group's investment specialists walk each client through the process of gold purchasing and provide customized portfolios. Clients will benefit from yielding high returns in gold at minimal exposure risk.
To receive a free Kennedy silver half dollar coin and to learn more about gold investment, call the Global Gold Group at 1-888-700-4148 to set up a free portfolio analysis.
###