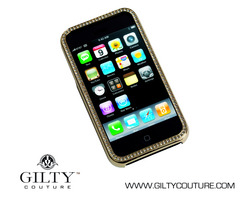 A stunning one-of-a-kind creation, the latest Apple iPhone 3G heralds a new generation of engineering and design that is far ahead of any competition
Dallas (PRWEB) July 9, 2008
"A stunning one-of-a-kind creation, the latest Apple iPhone 3G heralds a new generation of engineering and design that is far ahead of any competition," says John Hubbs, CEO of Gilty Couture. He continues to embrace the new device stating, "The iPhone 3G merges sensible design with an incredible user experience. Apple has listened to the demands of its fans all around the world, building a feature rich mobile device that embodies polished poise and edgy street smarts."
Hubbs believes new pricing makes the Apple iPhone 3G the best value in the history of the mobile phone and handheld device category. And this leaves fashion conscious consumers with a lot more flexibility to customize their device with Gilty Couture's newest rare metal and Swarovski crystal designs for the iPhone 3G.
"The global impact of the iPhone 3G being available in 70 countries will be phenomenal for our international customers as Gilty Couture continues to design for the crossover between technology and fashion," says Hubbs. "Gilty Couture's fearless approach to fashion and art results in distinctively striking, captivating creations, bold patterns, attention to detail and unique materials that will give individuals a way to set their iPhone 3G apart from the 45 million others that are expected to be circling the globe."
Much like Apple's race to offer new and innovative technology, Gilty Couture's fashions are constantly evolving and setting new trends in the international markets. Expect to see multicolored- and multi-karat Swarovski accents paired with vibrant rare metal designs that blend the flashy extravagance of contemporary glamour with the classic styling and tradition of yesteryear. Gilty Couture's first creations for the iPhone 3G are available for preorder on the Gilty Couture website as of this week.
Combining the new Apple iPhone 3G with Gilty Couture's accessories is sure to create an experience in a league of its own.
About Gilty Couture
Gilty Couture designs apparel, fashion and lifestyle accessories. The brand is timely, fun, glamorous, elegant and sexy. Consumers are tired of boring and want a change. Gilty Couture is their answer. With collections that include gold, silver, chromium, stainless steel and Swarovski Crystals, Gilty Couture is sure to please the individual that demands luxury as well as style and function. Learn more at: http://www.giltycouture.com or click here for Gilty Couture images and press materials.
Apple, iPhone and iPod are registered trademarks of Apple Corporation. Swarovski is a registered trademark of Swarovski AG. Gilty Couture and Gilty Couture Wardrobe Box are trademarks of Metallo Design LLC. Other company and product names may be trademarks of their respective owners.
###