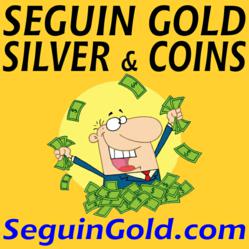 Fair & friendly, fast service - made me feel like family. We will do business again! Thank you
Seguin, Texas (PRWEB) December 18, 2012
Customers can earn 10% more on Wednesday Dec 19 & Thursday Dec 20, 2012 when they sell their gold, silver and platinum, including coins, at Seguin Gold Silver and Coins. For example, on a group of several pieces of 10 karat jewelry that weigh 50 grams, based on the current gold spot price, a customer would be paid approximately $62 more. Plus, they will get a coupon for $10 off two gourmet cheesecakes from Super Cheesecakes. The joint venture will help people to get extra money for the holiday season - or whatever their need may be. And, they will also save $5 when they buy one Super Cheesecake, or save $10 on two - just in time for Christmas dinner!
Seguin Cash for Gold Silver and Coins buys precious metals in many different forms, including, but not limited to: jewelry (broken or not), dental gold, coins, flatware, ingots, decorative items and watches. They pay more than other gold buyers, pawn shops or jewelry stores. Just read their online testimonials to see why Seguin Gold Silver and Coins is the most trusted precious metal buyer. Helping people in their time of need is a mission that Seguin Gold Silver and Coins doesn't take lightly, especially during the holidays.
Super Cheesecakes has a reputation for baking up scrumptious varieties of gourmet cheesecakes. Their customer testimonials reflect the quality of their products. For many, the holidays include enjoying delicious desserts, so Super Cheesecakes wants to make their desserts more affordable this season. Prentiss Gurza, owner, had this to say: "A lot of people don't have the time or ability to make a lot of food for their holiday celebrations, or they want to serve something extra special. I want to share these wonderful cheesecakes with people and help them save a little money too!"
Christmas is a time for giving and sharing. Together, Seguin Gold Silver and Coins and Super Cheesecakes would like to give a little extra to say "Thank You and Merry Christmas!" to all their customers, both old and new.
Seguin Gold Silver and Coins is open every day 7 AM to 11 PM. They buy gold, silver, platinum, jewelry & coins. They serve Seguin, New Braunfels, McQueeney, Gonzales, Luling, San Marcos, La Vernia, San Antonio, Austin & other Texas cities.
For more information call (830) 556-1966 or go to http://www.seguingold.com
Para informacion en Español llame (830) 556-1966 o visite http://www.seguingold.com/espanol
###