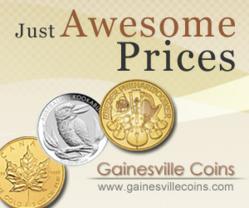 CME Lowers Margin on Gold and Silver Futures - So What - Buy Physical Gold and Silver
Lutz, FL (PRWEB) February 10, 2012
In an unexpected move, the CME announced after the close yesterday that margin requirements on gold, silver, platinum and copper were being lowered. In response, Gainesville Coins has decided to offer reduced pricing on two of our most popular gold and silver products.
Physical gold bullion buyers are offered the 1 oz PAMP/Suisse Gold Bar at as low as $20.99 over spot
Physical silver bullion buyers are offered the 2012 American Silver Eagle Monster Box at as low as $2.59 over spot.
Yesterday's decision by the CME to reduce margin requirements for gold and silver follows numerous margin increases in 2011. These margin increases were generally accompanied by steep falls for both metals.
For silver, the CME on 4/29/2011 through 5/9/2011 raised silver margin requirements 5 times from $8,250 to $16,000, representing a 93% increase in initial margin. During this time period, silver prices fell from $48.50 to $35.00 per troy ounce, or 27.83%.
For gold, the CME on 8/10/2011 and on 8/24/2011 raised gold margin requirements twice from $4,500 to $9,450, representing a 55% increase in initial margin. During this time period, gold prices fell from a multi-year intraday high of $1,917.90 to $1,729.00 per troy ounce on 8/25/2011, or 9.85%.
February 9/2012 Margin Decreases Don't Match 2011's Increases
Yesterday's margin decreases by the CME total 12% for gold and 13% for silver, a fraction of the steep increases imposed in 2011. It could be argued that the decrease in margin requirements is near-term bullish for both metals, however, Greek concerns are clearly outweighing their impact today.
CME Should Standardize Margin Requirement Changes
The unpredictability of the CME's margin changes raise questions on how margins for futures contracts are determined. It is the view of Gainesville Coins that the CME should be required to publish a standardized rationale on how margin is determined that would reduce the level of uncertainty current CME margin changes have on the precious metals markets specifically, and all futures markets generally.
Gainesville Coins encourages gold and silver investors to take advantage of physical gold and silver, and eschew what some in the industry call "paper gold" and "paper silver." With that in mind, Gainesville Coins has decided to offer the aforementioned specials on two best selling silver and gold bullion products.
###