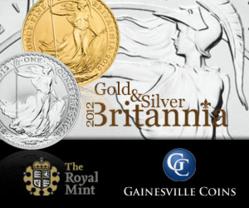 Buy gold and silver coins from the Royal Mint at Gainesville Coins
Lutz, FL (PRWEB) April 23, 2012
Gainesville Coins is pleased to announce that it is now an approved distributor of the Royal Mint of the United Kingdom, one of the largest and well-known mints in the precious metals industry. As an official distributor, Gainesville Coins will be able to provide gold and silver investors with a wider range of precious metal products at industry leading prices.
The Royal Mint began operating in 886 and is currently responsible for producing all U.K. coinage. It is also the world's leading export mint, providing coins and blanks for over 60 overseas countries. Among the many highlights in its history, The Royal Mint is the creator of one of the most well-known gold coins in modern history, the British gold sovereign. Another notable highlight is that Sir Isaac Newton, considered by many as the most influential scientist and mathematician to have lived, was Master of the Mint in the late 17th and early 18th centuries.
Gainesville Coins' status as an official distributor of the Royal Mint will result in more exciting gold and silver bullion coins on offer. Among the products to be made available will be the Royal Mint's 1 oz Gold Britannia and the 1 oz Silver Britannia, as well as numerous commemorative gold and silver coins. Among the more notable upcoming commemorative coins will be gold and silver coins celebrating the upcoming London Olympic and Paralympic Games and The Queen's Diamond Jubilee celebrations.
Gainesville Coins is committed to being the first choice for precious metal investors. Today's announcement with the Royal Mint will expand the number of gold and silver bullion choices available at Gainesville Coins, all at industry leading prices.
Did You Know
The U.S. Morgan Silver Dollar was designed by George Morgan who received his job with the U.S. Mint based on a recommendation from the Deputy Master of the Royal Mint in 1876. George Morgan would eventually become the Chief Engraver of the U.S. Mint.