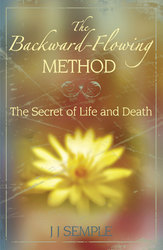 the universality of man's spiritual achievements
Bayside, CA (PRWEB) February 12, 2009
3-Ways to Wisdom blends the experience of three metaphysical adventurers into one lively event. Each writer will provide a 15-minute summary of their latest book, to be followed by a vigorous panel discussion with questions from the audience. Topics covered during the presentation phase are ecstatic states of creativity, the future of human nature in a Kundalini-aware world, and various ways of developing and enhancing masculine spirituality.
JJ Semple's presentation addresses "the universality of man's spiritual achievements" including techniques and procedures for nerve revitalization. In his latest book, The Backward-Flowing Method: The Secret of Life and Death Semple explains how sexual sublimation leads to better mental and physical health and prolongs life.
What is the backward-flowing method? The short answer is the secret of life and death. The long answer is a safe, permanent way of awakening Kundalini. JJ Semple's previous book, the critically acclaimed, Deciphering the Golden Flower One Secret at a Time, told the story of his Kundalini awakening. Now, in The Backward-Flowing Method, he examines the meditation techniques that led to his awakening. Most misunderstood of all is the backward-flowing method, a technique for sexual sublimation whose goal is activating the Kundalini-Life Force, a procedure so secret the ancients took an oath never to reveal it. Semple analyzes meditation practices across cultures and throughout the ages, proving decisively that the backward-flowing method is the Secret of Life. He traces its origins to The Tibetan Book of the Dead and The Secret of the Golden Flower.
Author Neil Sinclair's poems are examples of the creativity unleashed by a Kundalini awakening. After undergoing a profound awakening as a student in 1973, Sinclair suddenly felt compelled to write. Inexplicably, words came to him and he wrote them down, almost as if a higher power were dictating them.
Sudden acquisition of faculties like channeling, prescience, received knowledge, and extraordinary cognition are hallmark effects of Kundalini. In his new book, The Spirit Flies Free: The Kundalini Poems, Sinclair's inspired creativity explores a variety of subject matter. Not only do his poems plumb the depths of spiritual enlightenment, they encompass the entirety of human experience, from politics to love, from current events to psychology. What's more, these poems prove that inspired writing can also be witty and fun.
To Matthew Fox, our crucial task is to open our minds to a deeper understanding of the healthy masculine that we receive from our media, culture, and religions. Popular religion forces the punitive imagery of fundamentalism on us, pushing most men away from their natural yearning for spirituality and toward intolerance and domination. Meanwhile, many men, particularly young men, are looking for images of healthy masculinity to emulate and finding nothing. His new book, Hidden Spirituality of Men explores a distorted masculinity out of control.
Can these three writers find common ground? Will 3-Ways to Wisdom spark a movement to simplify spiritual exploration? To find out, come by Barnes & Noble Booksellers at 12:00pm on March 7, 2009. Jack London Square, Oakland CA
###