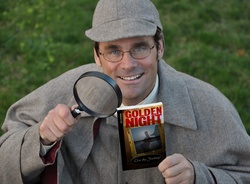 LONDON, Ontario (PRWEB) December 4, 2008
The launch of Mystery By You™ and Golden Night coincides with Book By You's tenth anniversary celebration and is part of the company's expansion into genres unique to the industry. The mystery books are co-authored by the customer, who selects the highly spirited heroine, her best friend, the quick-witted hero and his best buddy. The characters' hair color, eye color and body type are some of the story's 31 personalized characteristics that make this book a unique and exciting gift for the holiday season.
In Golden Night, a ruthless thief violently interrupts plans for an upcoming museum exhibit of local artwork. Our heroine, the museum's conservator with a keen eye for detail and a talent for trouble, suspects that one particular painting holds the key to a two-hundred-year-old mystery with potentially deadly consequences. The police detective in charge of the investigation (our brave hero) isn't so certain; in fact, he believes it's an inside job and his experienced, razor-sharp mind soon targets the art conservator herself as a possible suspect! In a quest for the truth, our heroine consults with her best friend, a savvy historian, to decipher the clues; meanwhile, the hero and his fun-loving pilot buddy are also on hand to unravel the mystery. Together, all four must race to hunt down the gold and the thief – before the devious thief finds them!
Michael Pocock, founder of Book By You®, commented, "Our customers have been asking for personalized mystery novels – they love our romance and kid's books, but they wanted a personalized book they could give to friends and family that was for adults, but without the romance. Golden Night is an action-packed, suspense filled story – sure to please the most die-hard mystery lover. We look forward to offering many more personalized mystery, romance, teen and children's books in the coming years."
More details and a personalized preview are available by visiting the company's website at http://www.BookByYou.com. Media interviews and promotional photographs are available upon request.
MULTIMEDIA GALLERY http://www.businesswire.com/cgi-bin/mmg.cgi?eid=5845961