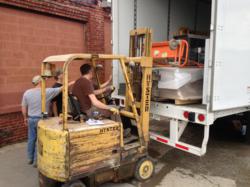 We are very excited to work with Landry on the Biloxi casino next and the challenges it may present - Gary Cacchione (owner)
Biloxi, Mississippi (PRWEB) April 18, 2013
Landry's announces the company is planning to invest about $150 million to transform the property into a premier resort destination. Dovetail Gallery is excited to be chosen, for the third time as the architectural millwork company for first phase which includes: Lillies, Casino offices, Party Pit & Rush Lounge. The new casino will be named the Golden Nugget Biloxi.
The Golden Nugget's new owners, Landry's, are known for their award-winning restaurants. Landry's will replace the Isle eateries with its own brand-name restaurants including Chart House, Morton's Steakhouse, Grotto, and Lillie's Asian Cuisine and Noodle Bar. Dovetail Gallery has been a key player in the millwork and fabrication of their unique design elements. Landry's had chosen Dovetail Gallery to remodel its earlier Golden Nugget Casinos in Las Vegas and in Atlantic City, NJ. Each casino had multiple bars, restaurants, common areas and night club, each different in its design and wood type. From 24-inch crown moulding to glass and metal wrapped walls.
Dovetail's owner Gary Cacchione said: "We are very excited to work with Landry on the Biloxi casino next and the challenges it may present." Dovetail engages in the design, manufacturing, and distribution of superbly crafted woodwork, decorative and functional metalwork, and custom laminated cabinetry. For over 25 years, Dovetail has delivered exceptional custom millwork services to clients throughout the Unites States and abroad.
See more of Dovetail's work at their website: http://www.dovetailgalleryinc.com
We are always looking for projects to bid and ventures with other contractors.
Fax us your invite to bid to.
FAX: 814.453.3342 ( ATTN: DVTL)
Brad Ford
Dovetail Gallery Inc.
352 East 18th Street
Erie, Pa 16503
Email: bradf(at)dovetailgalleryinc(dot)com
Tags: architectural millwork, custom millwork