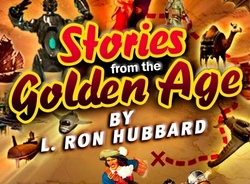 The history of 30th Street Station made it a perfect place to announce the release of our pulp fiction series
Philadelphia (PRWEB) September 8, 2008
Golden Age Stories Philadelphia's 30th Street Amtrak Station was transformed today, bringing it back to the original look and feel of the '30s. More than 100 images with vividly-colored original pulp fiction artwork covers of pirates, heroes and beautiful women now line the station as wall banners, posters, floor graphics and kiosks. The occasion: The launch of the Stories from the Golden Age pulp fiction series of novels and audiobooks by L. Ron Hubbard.
At the time of its original opening in 1934, the newsstands of the Pennsylvania Station-30th Street (its original name), were filled with daily papers and hundreds of brilliantly-colored pulp magazines providing reading fare for commuters.
"It's amazing to see how all this great 'Stories from the Golden Age' artwork has helped turn this historic location back to how it probably looked like when it first opened," said Jeff Monchik, District Manager for Amtrak Station's Faber Books. "I've never seen the likes of this for a book release . . . you really have got to see it to believe it."
It was the 1930's when author L. Ron Hubbard entered the pulp fiction field, inaugurating one of the most legendary writing careers in history, authoring over 250 short stories and novels, spanning all genres from mystery to adventure, westerns, fantasy and science fiction under 15 pen names.
With 19 New York Times best sellers and more than 230 million copies of his works in print, L. Ron Hubbard is among the most influential authors of the modern age.
"The 'Stories from the Golden Age' line will include 80 books and audiobooks, a total of 153 stories written by Hubbard. Each book uses the original pulp art and illustrations, carefully restored, providing authentic and bold colors of the original pulp magazines. Under the Black Ensign, Branded Outlaw, The Great Secret, If I Were You and Spy Killer are the first titles to be republished in the series, with the remaining 75 titles following over the next 6 years.
"The history of 30th Street Station made it a perfect place to announce the release of our pulp fiction series," said the publisher of Hollywood-based Galaxy Press. We wanted to showcase this authentic pulp series in the most authentic way possible and I believe we succeeded."
Jim Meskimen, director of the new line of multicast, unabridged audiobooks, was on-hand at Faber Books to autograph audiobooks. "We really wanted to transport the listener to another place and time with these pulp audios," Meskimen told a packed bookstore. "We have created what we like to call a 'movie for the mind.'"
About GoldenAgeStories.com:
For more information on Stories from the Golden Age, visit http://www.goldenagestories.com and receive a free Hubbard story eBook.
Press Contact:
Kim Catalano
pr@galaxypress.com
323 466 7815 x 170
###