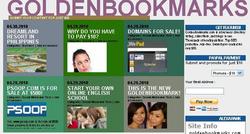 GoldenBookmarks.com sells blog entries at $100 each.
Wayne, NJ (PRWEB) May 4, 2010
GoldenBookmarks.com changes its marketing strategy from selling $10 ad space to $100 blog entry as featured on the homepage of the website. Russel Gabiola, owner of GoldenBookmarks.com, was inspired by the popularity of Alex Tew's Milliondollarshomepage. She said, "I am currently unemployed and my only source of income is selling websites. I don't want to be cheap by selling my idea at $10. I want to be noticed and $100 per entry is going to make people ask. I read an article about the young lad who earned a million dollars in five months by selling pixel ads. I wondered if I can do the same so I started GoldenBookmarks.com. The domain name speaks for itself, it's golden and you need to pay to be featured." Russel Gabiola is a 24-year old preschool teacher who sells school websites.
The idea of Gabiola for GoldenBookmarks.com is that advertisers can submit blog entries to promote their businesses or websites. What makes the website different and unique from other blogs is that GoldenBookmarks.com does not publish significant news events or trending topics which most bloggers would often write about. The submission is reviewed within 24 hours and released on the same day. Even though GoldenBookmarks.com accepts all types of advertising from companies, the readers can expect quality products with reviews and comments from visitors. GoldenBookmarks.com will serve as a business directory, classifieds, and review website in one. Gabiola added, "The Milliondollarhomepage sells pixels, but I sell blog entries. I may not earn as much as he did but I am hoping to get some good feedbacks and perhaps pay for the bills."
In just two days, GoldenBookmarks.com received $400 in sales for the promotion of an online school, domain, and a Philippine resort. In order to attract more people to buy this unique concept, GoldenBookmarks.com has already sent out several press releases and has continued to promote the website using social bookmarking, PPC campaigns, directory submissions, quality link building, and search engine optimization.
###