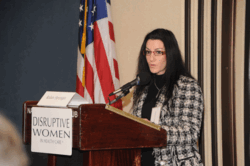 With the reality that exchanges will be an integral part of the healthcare system in 2014; it's exciting to be a part of the discussions as to how the exchanges should operate.
-- Stephanie Cohen
Rockville, MD (PRWEB) July 28, 2011
Golden & Cohen co-founder CEO Stephanie Cohen has been appointed to serve on an Advisory Committee for the Maryland Health Benefit Exchange. Cohen was selected to be a member of the Navigator and Enrollment Advisory Committee.
The purpose of the Maryland Health Benefit Exchange, formed as a result of the Affordable Care Act, is to "allow Marylanders to compare rates, benefits, and quality among plans to help individuals and small employers find an insurance product that best suits their needs." The Exchange was established by the Maryland Health Benefit Exchange Act of 2011, which Governor O'Malley signed into law on April 12, 2011. This legislation establishes the Exchange as an independent entity, and calls for the establishment of Advisory Committees – like the one on which Cohen will serve. The purpose of the committees is to provide input to the Exchange Board and the state legislature on issues related to the Exchange and to health reform. These committees, comprised of thought leaders in many different facets of health care/health reform, will collaborate and exchange expertise in order to present vetted options to the Board and legislature.
"With the reality that exchanges will be an integral part of the healthcare system in 2014; it's exciting to be a part of the discussions as to how the exchanges should operate," said Cohen, of her appointment.
Cohen will be serving on the Navigator and Enrollment Advisory Committee, the focuses of which will be primarily to: "consider the design and operation of the Exchange's Navigator Program and any other appropriate consumer assistance mechanisms, including user experience, and to consider how the Exchange should conduct its public relations and advertising campaign." Along with the 17 other academics, advocates and analysts that together comprise this Committee, Cohen will spend the next several months formulating approaches and drafting input papers on how best to approach these challenges.
Golden & Cohen has been rated one of the top health benefits consulting companies in the Washington, D.C. metropolitan area, providing access to the full spectrum of insurance products. Cohen, who co-founded the firm, also serves on the DC Insurance Exchange Commission as an active liaison for the National Association of Health Underwriters (NAHU), Greater Washington Association of Health Underwriters (GWAHU), and National Association of Insurance and Financial Advisors (NAIFA).
# # #