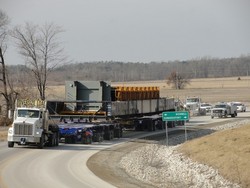 San Leandro, CA (Vocus) May 29, 2010
Despite the sluggish economy, heavy rigging and transportation expert Bigge Crane & Rigging is seeing unprecedented demand for Goldhofer and Scheuerle platform trailers recently. "We significantly added to our trailer fleet right around the same time we undertook numerous projects that required platform trailers. I don't think we've ever had so many trailers working at once in our history," said Bigge representative Brian Noga.
According to Bigge, one big reason for the increase is that they are now bare renting platform trailers nationwide. Their fleet was previously reserved for transportation tasks as part of a larger major project, or on an operated & maintained basis for use exclusively in Northern California. Now available nationwide, they are getting a lot of demand from their offices in Richmond, Virginia and their regional headquarters in Houston, TX.
Another reason could be Bigge's new state-of-the-art modular dual lane platform trailers. The Goldhofer dual-lane trailer can replace the typical beam and dolly transporter, saving time and money as well as allowing for safer and more efficient transportation. These are ideal for extremely heavy and over-sized components such as power and petrochemical components.
ABOUT BIGGE:
Bigge has one of the largest, most diverse, and state-of-the-art Goldhofer fleets in the U.S. Bigge features models with both mechanical steer and electronic steer, and includes the newest 2.4 meter wide, 50-ton per axle capacity PST-ES/E models. Bigge also operates a large fleet of Scheuerle self-propelled modular trailers (SPMT) for heavy transportation projects. All platform trailers are available on a bare rent basis nationwide, or an operated & maintained basis west of the Rockies. For more information about platform trailer availability or to check out Bigge's cranes for rent, please call Joe Nelms at (510) 638-8100 or visit us on the web at http://www.bigge.com .
###