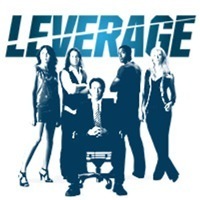 Leverage fans are excited about Season 3
El Cerrito, CA (Vocus) June 9, 2010
Gold Label announces the opening of the official "Leverage" print-on-demand merchandise store at http://www.goldlabel.com/leverage/. The high-octane series returns to TNT on its new night, Sunday, June 20, 2010 at 9pm ET/PT.
Starring Academy Award® winner Timothy Hutton (Ordinary People, Nero Wolfe), Gina Bellman (Coupling), Christian Kane (TNT's Into the West), Beth Riesgraf (Without a Trace) and Aldis Hodge (Friday Night Lights), "Leverage" is produced by Dean Devlin's Electric Entertainment. Dean Devlin (Independence Day, TNT's The Librarian movie series), John Rogers (Transformers) and Chris Downey (The King of Queens) serve as executive producers. Season 3 opens with Nate (Hutton) in prison after having to make a tough choice on the most recent con. He could have allowed his team to be arrested or simply given himself up to his nemesis. But that's only the beginning of Nate's challenges. In the season 3 premiere, in order to save the life of an innocent inmate, Nate must bring down the corrupt warden of the Super-Max prison where he's currently incarcerated and escape…whether he wants to or not.
"Leverage fans are excited about Season 3," said Gold Label's Creative Director, Sherry Grisham. "And Gold Label is excited to provide the opportunity for fans to customize 'Leverage' tees, sweatshirts, tank tops, travel mugs, clocks, journals, totes and dozens of other items with official key art and original designs such as Geek Power, The Good Guys and Art of the Con."
"We are thrilled to be launching the Gold Label store just in time for the premiere of season 3 of 'Leverage," said Executive Producer Dean Devlin. "We hope the merchandise will satisfy our fans' thirst for all things 'Leverage' until the series returns next month!"
"Gold Label is proud to support Electric Entertainment and TNT with the Gold Label Leverage Store," said Matt Reed, Managing Director at Gold Label. "Our community and social media channels are buzzing about the return of 'Leverage."
To visit the official Leverage site: http://www.tnt.tv/series/leverage/
About Gold Label:
Gold Label (http://www.goldlabel.com) empowers fans of today's hottest TV shows, movies, pop culture and humor brands to customize official t-shirts, hoodies, mugs and other licensed products at Gold Label entertainment merchandise stores. Gold Label licensing partners include "Leverage," "The Office," "Weeds," "Spartacus: Blood and Sand," "Party Down," "Gravity," "Heavy Metal," "The Tudors," RAMBO, SAW, "Mad Men," "Dexter" and Coca-Cola, among other fan favorite properties. Through strategic marketing and robust social media efforts, Gold Label connects rights holders with massive online communities obsessed with pop culture news, content and licensed products. Established in 2007, Gold Label is based in El Cerrito, California.
To visit the Gold Label Leverage Store: http://www.goldlabel.com/leverage/
For Additional Information Contact:
Paula Hoppe
paula (at) goldlabel (dot) com
(310) 877-0539
About Electric Entertainment:
Electric Entertainment is a full service film, television, and new media production company headed by veteran producer Dean Devlin along with partners Kearie Peak, Marc Roskin and Rachel Olschan. Over the last fifteen years, Devlin has co-written and produced some of the most successful feature films of all time. He co-wrote and produced Stargate and Independence Day, which has grossed over $800 million worldwide. He co-wrote and produced Godzilla, and produced The Patriot starring Mel Gibson, which was nominated for three Academy Awards. Electric is currently in production on the third season of "Leverage," the 1-hour drama series premiering on June 20 at 9pm ET/PT on TNT. Electric's most recent film projects include Flyboys, the politically-charged documentary Who Killed the Electric Car?, Cellular starring Kim Basinger and Eight Legged Freaks. In addition to "Leverage," Electric's television credits include Sci Fi Channel's "The Triangle," which won an Emmy for its Visual Effects; "The Librarian: Quest for the Spear," starring Noah Wyle which aired on TNT in December 2004 and was the highest rated movie on cable that year; its sequel "The Librarian: Return to King Solomon's Mines" which won an Emmy award for best music composition; and "The Librarian: Curse of the Judas Chalice" which premiered in December 2008.
###