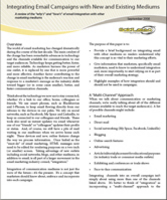 We decided to publish this white paper because integrating on and offline marketing channels is not the future - it's the present
Gaithersburg, MD (PRWEB) September 9, 2008
Gold Lasso Inc., a leading provider of on-demand email marketing software, has just released a new white paper focusing on the why's and how's of email integration with other marketing mediums. Advances in technology, and a reliance on mobile devices and social networking are forcing marketers to take advantage of new outlets and "integrate" them into email marketing campaigns.
"We decided to publish this white paper because integrating on and offline marketing channels is not the future - it's the present," says Elie Ashery, president and CEO of Gold Lasso. "Readers will be able to better understand integrating email with other communication mediums, how marketers can incorporate these technologies into their campaigns, and how integration should and should not be used."
Integration incorporates a multi-channel approach that may include several of the following: email marketing, direct mail, social networking, blogging, search, advertising, article/editorial placement, exhibiting at tradeshows and face-to face communication. The important part is that the approach involves evaluating an audience, segmenting it by the channel best suited for each segment, creating messages tailored to each segment, and, most importantly, recording and integrating the results and evaluation data for the entire campaign.
"Data is key. The more data that is available, the better the chance the marketer has of honing the message and delivery medium and achieving positive results. That's why it is extremely important to integrate all the data from each communication medium," says Ashery. "While it might seem that an IT department might need to be heavily involved in this process, the truth is that many ESP's offer solutions that make integration easier. Marketers just need to know to ask."
Marketers need to remember that using a variety of communication mediums does not mean the campaign is integrated. Successful results will be achieved when lists are compiled based on a host of both demographic and behavioral variables, and results tracked to know if customer Y made a purchase or acted on a message. "The risk for marketers is that with increased clutter, failing to integrate their campaigns will result in wasted dollars and a lower ROI," says Ashery.
One way marketers can practice integration is coupling their email efforts with web analytics to reduce shopping cart abandonment. If a visitor abandons a shopping cart on a retailer's web site, the retailer can automatically send a timely email offering the visitor an incentive to complete the transaction. Co-registration, which is quickly evolving as one of the best ways to organically grow a marketing list, allows visitors to share their contact information with advertisers specifically selected for the site. From there, marketers can use email for immediate follow up while a visitor's interest is piqued. Social Networking is being used by all ages to facilitate contact with friends, business associates and for networking. The benefit of integrating email marketing tools with social networking sites is that these sites send emails to registered users when their "friends" make updates to their online profiles, thus encouraging additional, timely interaction increasing the value of the network.
"The constant in technology is that it is always advancing," comments Ashery. "Marketers have to be flexible, and educate themselves on the tools that are available to make their campaigns successful. The basis of integration is fairly simple, and a marketer's vendors might already be able to assist in many of the areas discussed in the white paper. "
"Integrating Email Campaigns with New and Existing Mediums: A review of the why's and how's of email integration with other marketing mediums" is available for download at http://www.goldlasso.com.
About Gold Lasso
Gold Lasso, Inc., located in Gaithersburg, MD, is an interactive technology marketing firm that started operations in 2002. The company primarily services the association, publishing, retail, education, finance and hospitality industries. For more information, visit the Gold Lasso Web site at http://www.goldlasso.com or call 301-990-9857.
Gold Lasso, Inc.
http://www.goldlasso.com
25 B Chestnut Street
Gaithersburg, Maryland 20877
(301) 990-9857 Phone
(301) 990-9856 FAX
Nataly Blumberg
nblumberg(at)goldlasso.com
516-859-6665
# # # #