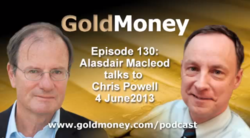 London (PRWEB UK) 11 June 2013
Fascinating from the get go, Chris details how he became involved in the founding of GATA all those years ago back in 1999.
Well known in the gold circles, Chris has tirelessly fought against the collusion to control the price and supply of gold and is widely admired for his erudition in this matter and the time he dedicates to GATA, a non profit organisation, which pursues justice and free financial markets.
Alasdair enquires as why the evidence of this collusion that GATA has obtained over the years never seems to be mentioned or investigated by mainstream financial writers who still remain somewhat reticent to the GATA case.
Chris elaborates on the treatment of the media, the last few years' relationship with the US regulators, whom have heard the arguments of GATA, before moving onto the recent downward price moves.
 
This brand new podcast was recorded on 4th June 2013. 
Click here to listen in for 25 minutes of economic common sense.
All previous GoldMoney podcasts are on GoldBuzzer's gold investment news catch-up page. Right now it is possible to enjoy free Goldmoney sign up and bullion storage for six months with the exclusive GoldBuzzer offer.