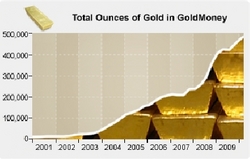 Investors are now more than ever looking for a safe haven for their money. GoldMoney CEO
(PRWEB) July 5, 2010
"GoldMoney", one of the world's largest providers and holders of physical bullion for retail investors, now stores more than US$1 billion on behalf of its customers in vaults in Zurich, London and Hong Kong. GoldMoney has achieved a growth of 112% over less than 18 months based on US $476 million of customer assets at the beginning of 2009, thanks to particularly strong demand for physical gold.
Geoff Turk, CEO of GoldMoney, said: "Investors are now more than ever looking for a safe haven for their money. As gold has, on average, registered a yearly appreciation of approximately 17% over the past nine years, many investors have chosen to safeguard their portfolio by owning a tangible asset and simultaneously benefit from the price appreciation of precious metals.
"The market is being driven by the growing fear in the financial community that just like Greece, other nations might end up revealing huge budget deficits. GoldMoney therefore expects that the uptrend in gold has further to go. We expect to see customer assets grow as the price continues to rise. More and more people will turn to GoldMoney to protect their wealth."
GoldMoney is there to help people protect their purchasing power with precious metals stored securely in vaults in Europe and Asia. As the credit crisis moves from private sector to public sector, all currencies are set to sink even faster relative to precious metals over the next decade. The strongest and fastest gains in a secular bull market occur nearer to its end than its beginning and this pattern is sure to repeat in precious metals as a growing number of individuals increasingly question the meaning of paper money created with reckless abandon by governments around the world.
The total number of gold ounces held by "GoldMoney" for its thousands of individual and business clients has steadily increased in a manner very similar to the price increase for Gold over the past decade:
The slope of both of these charts is likely to accelerate over the next decade in a similar manner. The theme in these two charts is the same: both GoldMoney and Gold have provided investors an unparalleled way to protect and grow their wealth. Most buy-and-hold stock investors have gained nothing over the past decade, while precious metals investors have seen 300-400% gains. It is a conservative bet that precious metals investors, many with the help of GoldMoney, will continue to increase their wealth and maintain their purchasing power better than those who invest in more "traditional" asset classes.
Since 2001, GoldMoney has provided a cheap, reliable and secure way to store precious metals. GoldMoney now has close to $1 billion in customer assets (over $974 million as of April 30th) and gives customers the option to cheaply store their gold, silver, platinum and paper currencies in secure vaults in London, Zurich and/or Hong Kong. GoldMoney eliminates the counterparty risks often found with paper metal products like ETFs and pooled gold accounts and provides unprecedented customer protection at a time when most financial firms only seem to be exposing their clients to more risk. Additionally, customers can take physical delivery of their metal if they choose and even make payments in gold terms through GoldMoney's patented goldgram technology.
As we sit on the threshold of the most lucrative part of the precious metals bull market, GoldMoney will continue to be there to help savers and investors alike. Those looking into GoldMoney and/or the precious metals bull market for the first time should remember one important item: despite a decade of tremendous progress, they've both only just begun.
GoldMoney is the leading provider for the online sale and storage of physical gold, silver and platinum to retail buyers.
GoldMoney is a fast growing enterprise founded by James and Geoff Turk. As one of the world's largest providers of physical bullion for retail investors, "GoldMoney" is combining 21st century technology with the world's oldest money: Gold. The company efficiently uses the internet to make the online purchase and the storage of gold, silver and platinum secure, convenient and economical. Residents of 85 countries can establish a GoldMoney Holding to build savings and secure their wealth by owning pure gold, silver and platinum with GoldMoney.com. All precious metals are insured and stored safely and conveniently for the investor in specialized bullion vaults in London, Zurich and Hong Kong. By performing regular audits GoldMoney constantly ensures and verifies the contents of their bullion vaults, thereby setting the industry standard for companies in this sector.
Via GoldBuzzer, investors will enjoy 6 months of free metal storage and worldwide bullion delivery.
To learn more about GoldMoney services, click here to go to GoldMoney.com
###