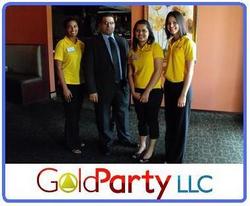 The best part about this business is you can make good money starting with only a few hundred bucks. If you are looking for a growth business today, this is a no-brainer
Marlborough, MA (PRWEB) September 30, 2009
Cash for gold businesses are everywhere. T.V. commercials airing day and night, tell people to mail in their gold. Although it appears to be a great chance to sell scrap-gold, looks can be deceiving. Floods of complaints can be found on the internet, most of which report underpayment. Gold Party LLC discovered some companies are paying customers less than 10 cents on the dollar for their gold. In simple terms, these companies are only paying customers $100 for every $1000 worth of jewelry sent in.
Identifying this as opportunity, some are creating and expanding gold party businesses. A gold party is similar to a tupperware party, where hosts invite friends, family, and co-workers to sell unwanted gold jewelry. This allows guests to sell gold in a comfortable setting rather than mailing valuables or going to a dicey pawn shop. In addition, consumers have the ability to accept or reject an offer on the spot, as well as negotiate.
As a result of the boom in gold party activity, a new education industry is being born. Gold Party LLC, once focused only on gold parties, now teaches people how to create a gold party business for free. "Once you learn the basics it's simple", says founder Tekoa DaSilva. "The best part about this business is you can make good money starting with only a few hundred bucks. If you are looking for a growth business today, this is a no-brainer". At the Gold Party LLC website, http://www.goldpartyllc.com, a free educational video series is now available.
"The secret is finding a real gold refiner", says DaSilva. "Most gold buying companies today are marketing firms masquerading as gold refiners." Gold Party LLC offers tips on how to spot a real refiner, and offers a Recommended Refiners List.
"The average person should have the same access to information and education as the wealthy," comments Dasilva. "Reading Robert Kiyosaki's 'Rich Dad, Poor Dad' book series inspired me to give back." Gold Party LLC's mission is offering free education to anyone willing to learn.
As cash for gold companies lose trust, local gold buyers have the opportunity to step in. Gold buying is a real opportunity during a time when people are struggling to make ends meet--which is the new reality for many in today's economy. Gold Party LLC is proud to provide the average person a means to make money in these hard times.
Contact
Tekoa Da Silva
Founder and CEO, Gold Party LLC
617-458-1392
###