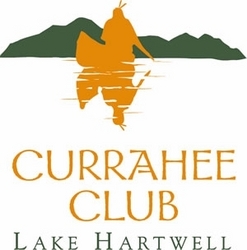 We are bringing to life our vision of a family-focused retreat with outstanding amenities and unrivaled service
Atlanta, GA (PRWEB) March 13, 2008
On the heels of its national Golfweek ranking as one of the "Top 100 Residential Golf Courses," Currahee Club golf community has now been selected as one of America's 100 Premier Properties by the editors of LINKS Magazine and named a "Best of the Mountains" community by Mountain Homes Magazine - receiving a top ranking in the publication's "Best Lake Living" category. Situated in northeast Georgia amidst the Blue Ridge Mountains and Lake Hartwell, the spectacular 1,200-acre community was chosen for the quality of its Jim Fazio-designed, 7,513-yard golf course and golf clubhouse, desirable waterfront location and premier amenities.
A testament to its focus on providing members with notable amenities, Currahee Club recently unveiled the social hub of the golf community - the unparalleled golf clubhouse. This 48,000-square foot masterpiece exudes a rustic yet luxurious ambience. Antiques and hand-made items abound, including a Cherokee spirit table, authentic Irish pub bar and intricately sculpted chandeliers. A casual dining room boasts coffered ceilings, warm oak wainscoting and antique seeded glass, while two private dining areas provide an opportunity for a one-of-a-kind gourmet experience. French doors beckon visitors onto the 3,000-square foot veranda, which is the perfect place to enjoy a glass of wine and marvel at the panoramic views of Lake Hartwell and the 1st hole from the pinnacled vantage point. The golf clubhouse also will feature a state-of-the-art spa, including massage rooms, steam showers, workout facilities and more.
"We appreciate our LINKS Magazine and Mountain Homes recognition, and believe that the center of our community - the golf clubhouse - is an achievement that solidifies our position among elite properties," said Chris Whitley - partner, Currahee Club golf community. "We are bringing to life our vision of a family-focused retreat with outstanding amenities and unrivaled service," he continued.
Soon, Currahee Club will welcome a recreation center, swimming pool, tennis club, children's playground and the Currahee Trading Company - a general store with an old-time feel.
About Currahee Club
Currahee Club, a mountain, lake, and golf community, is located just 90 minutes from Atlanta and 60 minutes from Greenville, S.C., off of Highway 17 in Toccoa, Ga. Currahee Club is a development of Whitley Development Group, Inc., a father-son team involved with successful, notable properties including The Bear's Club in Palm Beach, Fla., The Ritz-Carlton Golf Club & Spa in Jupiter, Fla., Colleton River Plantation near Hilton Head, S.C. and the Piedmont Driving Club in Atlanta. For more information on Currahee Club, please visit http://www.curraheeclub.com or call 706.827.1000 or 888.560.2582.
# # #