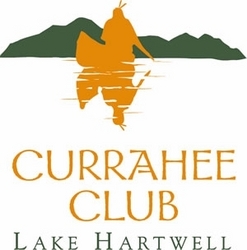 one of the best we've ever done
Toccoa, GA (PRWEB) May 20, 2008
Golf community Currahee Club recently revealed a brand new golf clubhouse for its members. As developers of some of the most prestigious golf club communities in the Southeast, Bob and Chris Whitley know more than a thing or two about clubhouses. So when they tell you that the newly unveiled, 48,000-square-foot golf clubhouse at Currahee Club is "one of the best we've ever done," it's not a statement to be taken lightly.
Bob and Chris Whitley are the father-son partners in Whitley Development Group, which lists more than a half-dozen award-winning golf club communities on its corporate résumé. Colleton River Plantation golf community, near Hilton Head Island, S.C., was named best new private course of the year in 1993 and its clubhouse was named the best new private golf clubhouse in the country by Crittenden's Golf Inc. magazine.
"Still, we consider the golf clubhouse at Currahee Club to be among the very best we have built," said Partner Chris Whitley, who is responsible for overseeing the development of the 1,200-acre private, gated golf community set in the southern Appalachian foothills overlooking Lake Hartwell.
Sited atop a ridge commanding 360-degree views of the mountains, lake and the award-winning Jim Fazio-designed golf course it complements, the Currahee golf clubhouse is a sprawling blend of native stone, cedar shakes and copper accents. Like so many of golf's great clubhouses that have evolved over decades, the design created by NCG Architects of Atlanta evokes a timeless character that belies its youth.
Inside, Kay Ingalls Design has meticulously integrated the history and culture of the area into an overall interior design that defines casual elegance and warmth. Rich woods used in the floors and wainscotings, vaulted ceilings with massive, exposed beams and even more massive stone fireplaces combine to meet the Whitley's mandate - that the Currahee golf clubhouse provide a "second home" feeling for members and guests of the golf community for decades to come.
"We wanted the Currahee Club golf community to have a clubhouse that is elegant, yet comfortable," Chris Whitley said. "We want our members to feel 'at home' here, whether they are playing golf, dining or just relaxing with friends. Everything we did in developing the golf clubhouse - from the initial design to the finishing touches -- was done with that primary objective in mind."
Entering the Great Room at the center of the golf clubhouse from the stone porte-cochère, you are immediately struck by a stunning, panoramic view of Lake Hartwell and the golf course. With towering fieldstone fireplaces at each end of the room, hickory flooring that purposefully looks like it has seen years of foot traffic already, three large hand-forged chandeliers and furniture designed to complement its surroundings, the Great Room of this prestigious golf community is the perfect place to meet friends or to enjoy the solitude and quiet of a good book.
Just off the Great Room is the Billiards Room, where, in addition to two competition pool tables, a collection of memorabilia from Toccoa's 101st Airborne, the Band of Brothers who trained nearby at Currahee Mountain, is displayed.
To the other side of the Great Room is the Main Lounge and, just beyond that, the 80-seat dining room with its coffered ceilings, rich oak wainscoting and handcrafted mantle and surround. Also complementing the main dining room are two private dining rooms where members of the golf community can celebrate special occasions or entertain special guests. Like the Great Room, both the lounge and dining room feature continuous windows overlooking the golf course, lake and mountains. But step out onto the flagstone verandah, and you can enjoy the sights and sounds of the unspoiled, natural enclave that is Currahee Club.
Beyond the Great Room, in the north wing of the golf clubhouse, are the men's and ladies' locker rooms, each with its own bar and lounge and both accented by distressed wood finishes, bronze fixtures and slate floors. The men's lounge features an authentic 100-year-old Irish pub bar and is complemented by another covered verandah.
And the spacious and fully-stocked golf shop at the far end of the clubhouse can be accessed via a covered gallery, giving the feeling of the old, free-standing pro shops from a century ago.
A full-service day spa, including massage, manicure and steam rooms, a juice bar and fitness center, is planned for the lower level of the golf clubhouse.
About Currahee Club
Currahee Club, a golf, lake and mountain community, is located just 90 minutes from Atlanta and 60 minutes from Greenville, S.C., off of Highway 17 in Toccoa, Ga. The 7,513-yard Currahee Club golf course, designed by Jim Fazio, is ranked among "America's Top 100 Residential Golf Courses" by Golfweek Magazine and "America's 100 Premier Properties" by Links Magazine. Currahee Club is a development of Whitley Development Group, Inc., a father-son team involved with successful, notable properties including The Bear's Club in Palm Beach, Fla., The Ritz-Carlton Golf Club & Spa in Jupiter, Fla., Colleton River Plantation near Hilton Head Island, S.C. and the Piedmont Driving Club in Atlanta. For more information on Currahee Club, please visit http://www.curraheeclub.com or call (706) 827-1000 or (888) 560-2582.
About NCG Architects
More than 30 years ago, a group of friends brought together their passion for architecture and their diverse talents and created a firm devoted to transforming their clients' visions into timeless destinations. The roots of Nichols Carter Grant Architects began to take hold in Florida's Amelia Island Plantation. The belief that buildings should be formed as a response to the surrounding environment became one of the tenets upon which the firm was built; a strong client relationship was another. This, combined with the success of the Amelia Island project, resulted in an impressive 20-year working relationship between the firm and its first client. These tenets remained the foundation of the firm as its strongest talents evolved into the leadership of NCG Architects, whose focus remains providing service beyond design. For more information, please visit http://www.ncgarch.com or call (404) 892-4510.
About Kay Ingalls Design
Kay Ingalls Design was founded in 1980, with an approach centered on "interior architecture" - what is beautiful to the eye, must also be functional in the space. Katherine 'Kay' Ingalls has more than 30 years of interior design experience. She has been involved in all phases of the design process on both newly constructed buildings and renovations. She holds a Bachelor of Design degree from the University of Florida and is a registered Interior Designer by the Georgia State Board of Architects. In addition to the Currahee Clubhouse, Kay has worked on a number of clubhouses and resort communities including Laurel Springs Clubhouse in Suwanee, Ga.; Berkeley Hills Country Club in Duluth, Ga.; The Falls of Autry Mill in Alpharetta, Ga.; Sandcastles Condominium Hotel, Amelia Island Plantation, Fla. and Seven Oaks Clubhouse, Norcross, Ga. Kay also will be overseeing the community Design Center at Currahee Club where owners can take advantage of her remarkable interior design skill. For more information, please call (770) 955-7074.
###