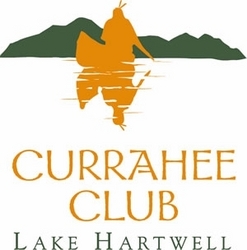 The World's Best Hotels
Toccoa, GA (PRWEB) June 26, 2008
Currahee Club, the award-winning private golf community located on Lake Hartwell in the north Georgia mountains, now has a sibling on "the old sod."
Consistently named as one of America's top 100 golf community residences by numerous national publications, Currahee has forged a reciprocal club membership agreement with the five-star Adare Manor Hotel & Golf Resort in County Limerick, Ireland. The announcement was made by Chris Whitley, partner in Whitley Development Group, which is developing the 1,200-acre golf community in the foothills of the Blue Ridge Mountains, adjacent to the 56,000-acre Lake Hartwell.
"Whitley Development has had a long, close association with Adare Manor Hotel & Golf Resort. During this relationship, we have always been impressed with quality standards demonstrated by the staff throughout the hotel and golf resort," Whitley said. "That's why we are so pleased that we have been able to arrange reciprocal membership privileges for our Currahee Club golf community members. Now, our members will be able to enjoy a true member's experience at one of the world's finest hotel and golf resorts."
An 840-acre estate set on the River Maigue, Adare Manor Hotel & Golf Resort has been named the No. 1 resort in all of Europe by Condé Nast Traveler and one of "The World's Best Hotels" by Travel + Leisure magazine. The resort's Adare Golf Club, described by British journalist Alistair Tait as being "among the best inland courses in Ireland" in his book, Golfing Gems - Ireland, is also host to the European PGA Tour's Irish Open, where, in 2007, Padraig Harrington became the first Irishman to win the title in 25 years.
Easily one of the most luxurious hotel and golf resorts in the world, Adare Manor offers 62 bedrooms in the elegantly appointed manor house, as well as 11 Clubhouse bedrooms, 22 two- and four-bedroom townhouses adjacent to the Clubhouse and 46 three-bedroom villas. In addition to golf, this community resort offers a variety of fine dining options, an elegant spa, and outstanding fishing on the Maigue. Other activities and amenities include cycling, archery, hiking, shooting sports, and an equestrian center.
Named for the nearby town of Adare, a picturesque village of quaint cottages, beautiful gardens, medieval churches, and the 800-year-old Adare Castle, the Adare Manor Hotel & Golf Resort dates back nearly 200 years, though original buildings on the site go back much further. In the 1720s, what is now the Manor was merely a refined Georgian house, without turrets and other elaborate details. But in 1825, the castle-like Manor was commissioned by Lady Caroline Wyndham to provide a diversion for her gout-stricken husband, the Second Earl of Dunraven, Windham Quin. Nearly 30 years were needed to complete the Manor in its present form, the work being finished in 1852 by Lord Dunraven's eldest son, the Third Earl of Dunraven. The formal French gardens, which still complement the Manor today, were laid out by P.C. Hardwick in the 1850s.
The home remained in the Dunraven family until 1982 when Lord and Lady Dunraven sold it to an investment consortium.
The Gothic revival Manor includes towers, turrets, woodwork, stonework, 52 chimneys (one for each week of the year) and 365 leaded glass windows (one for each day of the year). As the numbers indicate, the entire floor plan is on a grand scale. Nowhere is this more evident than in the Minstrels Gallery, a 132-foot-long banquet hall inspired by Versailles' Hall of Mirrors. The second longest room in all of Ireland, the Minstrels Gallery, with its 26½-foot ceiling, today hosts lavish parties and private dinners.
"As developers of the Currahee Club golf community, we are proud of the relationship we have formed with Adare Manor Hotel & Golf Resort and the current owners, Tom and Judy Kane," said Whitley. "We're honored to be able to partner with one of the world's foremost hotel and golf resorts and offer our golf community members reciprocal privileges. We also feel it reinforces Currahee Club as one of the finest private golf community locations in the country and further underscores the recognition and awards from publications like Golfweek and Links Magazine."
The 7,513-yard Currahee Club golf course, designed by Jim Fazio, is ranked among "America's Top 100 Residential Golf Courses" by Golfweek Magazine and "America's 100 Premier Properties" by Links Magazine.
About Currahee Club
Currahee Club, a golf, lake and mountain community, is located just 90 minutes from Atlanta and 60 minutes from Greenville, S.C., off of Highway 17 in Toccoa, Ga. Currahee Club is a development of Whitley Development Group, Inc., a father-son team involved with successful, notable properties including The Bear's Club in Palm Beach, Fla., The Ritz-Carlton Golf Club & Spa in Jupiter, Fla., Colleton River Plantation near Hilton Head Island, S.C. and the Piedmont Driving Club in Atlanta. For more information on Currahee Club, please visit http://www.curraheeclub.com or call (706) 827-1000 or (888) 560-2582.
###