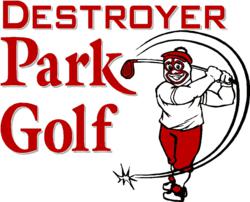 We are delighted to bring a popular hit game from Japan to the area and provide another opportunity for innovators in the sport here to the US.
Akron, New York (PRWEB) May 23, 2013
Destroyer Park Golf is pleased to announce the opening of the first ever Park Golf Course in the U.S. this June. Park Golf is a form of golf that was invented in Makubetsu, Hokkaido, Japan in 1983. The sport resembles a hybrid of traditional golf and croquet.
Park Golf is similar to conventional golf in the sense that the object is to hit a ball into a hole with a club in the fewest number of strokes. Park Golf balls are similar in appearance and material; however the balls are much larger in size, about that of a cue or croquet ball. There is only one club in play with Park Golf; it is something that resembles a typical golf driver, but with a shorter, fatter shaft. Players essentially drive and putt with the same club.
The founders of the sport wanted to keep it simple so that people of all ages could enjoy the game. Unlike traditional golf courses, Park Golf Courses are relatively short and the physical strain of the game is low. Maximum length for an individual hole is 100 meters (109 yards). A nine-hole course is limited to 500 meters (546 yards) or less. Like traditional golf, holes range from Par-3 to Par-5.
The cost of playing is low ($8 per game) and the rules are simple. For these reasons, it is a good sport for players of all ages and abilities. Everyone can participate and play Park Golf. There is also a strong emphasis on harmony with other players and the natural setting of the golf course.
Destroyer Park Golf is located at 7065 Sandhill Road, Akron N.Y. 14001. Call them today at 1-888-508-1124 for more information.
About the company:
Destroyer Park Golf is the first ever Park Golf course in the United States. Located conveniently between Rochester and Buffalo, Destroyer Park Golf is not a typical public golf course. Destroyer Park Golf was designed for "Park Golf," a Japanese phenomenon that has recently made its way to the United States. The location makes it one of the best public golf courses in WNY. For more information, please visit their website at http://www.destroyerparkgolf.com.