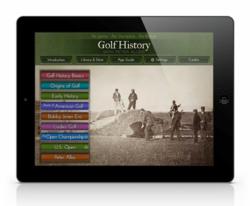 This iPad app oozes quality!
Sarasota, FL (PRWEB) May 30, 2013
With over 400 stories, 500 photographs, and 100 videos, the iPad app "Golf History with Peter Alliss" offers countless hours of guilty pleasure. Peter Alliss, television's "Voice of Golf", lends wit and color to the stories of great champions alongside pithy interviews with Scottish golf historians. This app is a first in its exploration of the personalities and pivotal moments in the history of the game. Designed as an interactive timeline spanning the development of golf from Mary Queen of Scots and Old Tom Morris to the golden years of Bobby Jones, this remarkable new iPad app is both informative and entertaining. With stories about golf's legends, their lifestyles and the courses on which they played, from early to modern times, and with hundreds of original historic photographs, "Golf History with Peter Alliss" honors the pioneers of a game currently enjoyed by over 60 million people worldwide.
Peter Alliss entertains with personal anecdotes throughout the app. As a professional golfer, 8-time Ryder Cup player, television commentator, author and course designer, humorist and provocateur, Mr. Alliss, inducted into the World Golf Hall of Fame in 2012 provides wisdom and insights into the history of golf.
APP FEATURES
● More than 500 rare historical photographs
● Over 400 original stories on golf, its champions, fashion and lifestyle
● 100 exclusive videos featuring Peter Alliss and noted golf historians sharing personal memories, historical facts and anecdotes on the game
● An interactive timeline outlining significant events in the history of golf, major champions, evolution of social mores, early societies, courses, equipment and much more
● Image captions with titles, dates, locations and descriptions
● Keyword search to quickly locate all content
● The ability to save content to personal favorites
● Sharing of images and stories via Twitter, Facebook and email
● The ability to scroll across timelines, tiles, and images
● Full screen image zooming
● The option to order selected photographs as museum-quality archival prints
"Golf History with Peter Alliss" is available worldwide through the iTunes app store in the Reference and Sports categories.
"Golf History with Peter Alliss" is a free app offering in-app purchases of additional content.
The app is published by Exulto Media, Inc and has been designed and developed in partnership with Polymash Inc.
About Exulto Media, Inc:
Exulto Media, Inc. is the publisher of "Golf History with Peter Alliss" iPad app.
About Polymash, Inc:
Polymash, Inc. Polymash is a US-based company whose mission is to transform knowledge and content into exceptional experiences on tablets, web and emerging mobile platforms. Polymash offers a full range of creative services that combine the design, authoring or converting of content for mobile devices. Polymash assists with overall mobile strategy development and integration, information product design and development, marketing strategy, services and support.