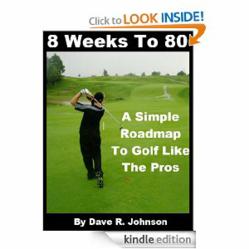 San Diego, CA (PRWEB) August 13, 2012
8 Weeks To 80 is a golf instruction book that is proven to work by longtime golf enthusiast, Dave Johnson. Dave has made his golf lessons in this book available for all readers wishing to golf like the pros in 8 weeks.
"8 Weeks To 80: A Simple Roadmap To Golf Like The Pros" is an ebook that contains tons of tricks, tips & exercises that can transform even the amateur golfer into a powerhouse on the course. The updated ebook now contains even more essential golf lessons that players would surely love to get their hands on.
The 8 Weeks To 80 Kindle book has received favorable customer response, in fact according to Kevin Miles, and I quote "Dave will help you develop the golf game that you want but probably feel is out of your reach. Highly recommended for the golfer who wants to take their game to the next level."
In view of this fact, consumers who want a lower golf score and to start golfing like the pros can find a roadmap in this book. The golf guide by Dave Johnson is now available for download for iphone users or anyone using Kindle.
This golf instruction book is packed with 11 Chapters of pure instruction on how to lower your golf score and is available at Amazon, a leading online retailer of ebooks.
For further information on the amazing golf instruction book 8 Weeks to 80, please visit http://www.amazon.com/Weeks-To-80-Roadmap-ebook/dp/B008DWPFWA for details as well as to get a copy of the book.