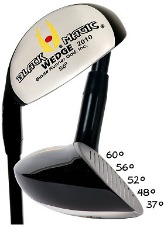 Simplify Your Short Game- With Design Patented Hybrid Golf Wedges That Deliver Real Results
Nationwide (PRWEB) February 13, 2013
The manufacturer and retailer of some of the most technologically advanced hybrid clubs in the game of golf is wowing sport enthusiasts with its innovation. Each golf wedge offered by Blade Runner Golf is of exceptional quality and designed to make-up a great golf set of wedges available to amateurs and professionals alike.
Blade Runner Golf gets rave reviews about each and every golf club in its arsenal and is proud to make available what it knows empirically to be a great set of wedges on the market. The company is making a particularly big splash with its hybrid wedge golf club, the same gap wedge reviewed in Examiner.com.
"Picking the right wedge for the right shot is necessary for golfing success. Take the gap wedge, for example. The name says it all; it fills an intermediate position, filling the gap between the sand wedge and the pitching wedge. This 52 degree golf wedge has come to serve an important role in the short game, yet many novice golfers wonder exactly when this wedge should be used," the review articles author, Chris Burns writes.
The instructor states golfers need to check their ego at the door and have a good understanding of the game along with their strengths and weakness of their game and the short game is a weakness for many. It is the easiest place to subtract a couple of strokes by improving your wedge and flat stick.
Burns, a golf instructor and college coach put the Black Magic hybrid wedge to the test. He points out there are a number of club manufacturers which make big time promises about their products and offer some type of magic to shoot lower scores, but most of this is witchcraft. Burns' review of the Black Magic wedge produced decidedly different results.
The writer rating the Black Magic Wedge is Chris Burns, a second-generation golf instructor and a Division III university golf coach who's been teaching people how to play for many years. He is also a contributor to North Country Golf Magazine and makes and restores clubs as a hobby. He lives and teaches in Green Bay, Wisconsin.
About
Blade Runner Golf, Inc. is a company that is very serious about the notion that a golfer's short game can make all the difference in his or her final score—and that players can take their short game to the next level if they only have the right club from which to choose. Black Magic's hybrid wedges Conform to USGA Rules, but also helps golf enthusiasts find new precision and power as they make their way onto the putting green. Black Magic Wedge can be reached on the web at http://www.blackmagicwedge.com
Contact:
Black Magic Wedge
2519 McMullen Booth Rd
Suite 510-129
Clearwater, FL 33761
Toll Free Phone: 877-799-6099
sales(at)blackmagicwedge.com